---
---
Selected machine:
DC16

Select another model
---
Can't find the right accessory?
If you can't find the Dyson accessory you're looking for, please call 1800 239 766.
---
Need help with your machine?
For help with your Dyson vacuum cleaner, visit Dyson support.
Stubborn dirt brush
Part No. 918508-01
The Dyson Stubborn dirt brush attaches to the hose or wand on your Dyson vacuum cleaner for dislodging ground-in and stubborn dirt and dried mud from upholstery and carpets.
Stiff nylon bristles agitate fabric and carpet pile to work the dirt loose . The bristles are angled to create a flicking action as they work through carpet pile - popping the dirt up into the airflow. Gaps between the bristles make the brush easier to push and prevent it sticking to surfaces.
The Stubborn dirt brush is made of tough polypropylene for strength and durability.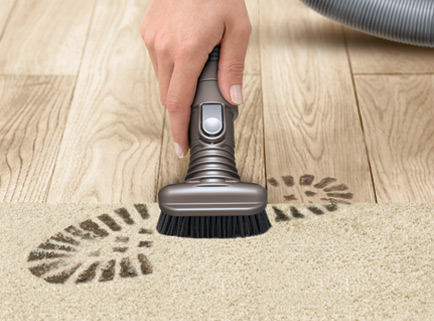 Delivery details
Free delivery on all parts and accessories when you order direct from Dyson. Parts and accessories delivered within 5-7 working days from the acceptance of your order.
Suitable for:
All Dyson upright, barrel and handheld vacuum cleaners
What's in the box?
Stubborn dirt brush
Adaptor tool
---
Free delivery

Order online from Dyson for free shipping on all vacuum cleaners, fans, parts and accessories. Delivery details

About Dyson

Find out about James Dyson's struggle to produce the world's first bagless vacuum cleaner. More details

Support

Where to buy

Find the nearest retailer where you can buy Dyson machines. Search now
---
---