Limited edition
Limited edition Dyson Corrale™ straightener (Red/Bright Nickel)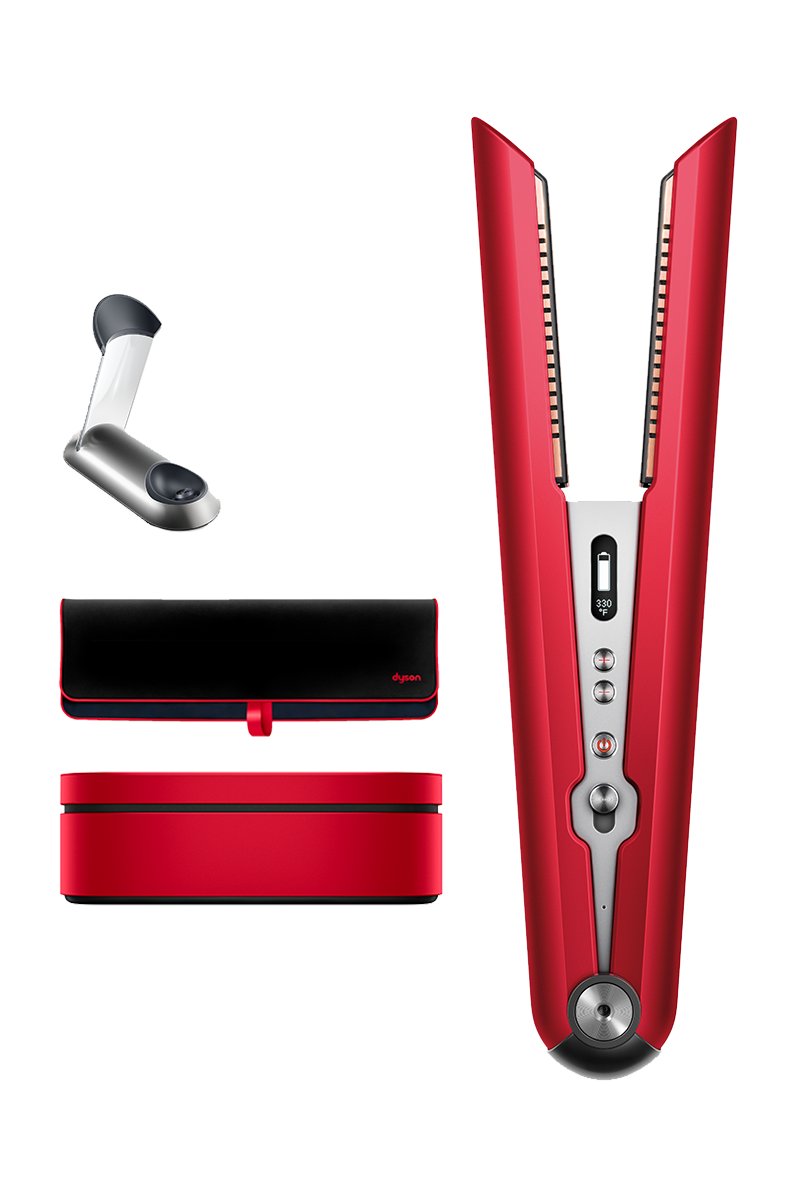 Limited edition
Limited edition Dyson Corrale™ straightener (Red/Bright Nickel)
Limited edition Dyson Corrale™ straightener (Red/Bright Nickel)
SKU: 398042-01 | RRP: $699
Enhanced styling. Less hair damage.1 Cord-free.
Engineered to create a range of styles.
2020 Prix de Marie Claire Beauty Awards Australia Winner.
Complimentary Dyson-designed red presentation case worth $99.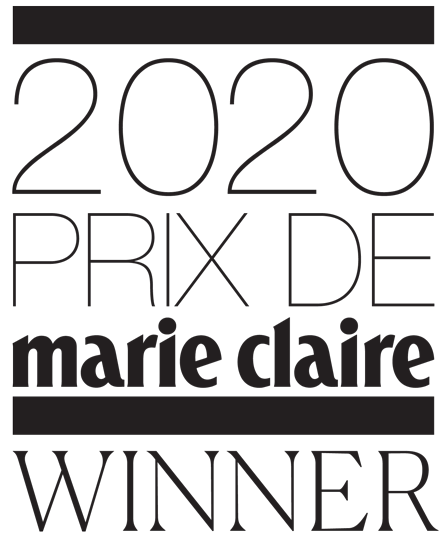 Winner of the Best Hair Tool Award
Prix de Marie Claire Beauty Awards Australia
The only straightener with flexing plates that shape to gather hair
Flexing manganese copper alloy plates shape around your hair. This extra control enables enhanced styling with less heat - and therefore less hair damage.1
Dyson-designed red presentation case
Protects and neatly stores your Dyson Corrale™ straightener at home or on the move. Finished in red and cushioned with soft fabric.

Engineered to create a range of styles
The Dyson Corrale™ cordless hair straightener can create a variety of different hair styles – performing as both a curl and straight hair styler. From curls and waves, to smooth and sleek. See how it can help you to get the look you want.
C curls

Create smooth hair with gentle bends and movement at the ends.

True curls

Create voluminous, bouncy curls that move freely.
Smooth and sleek

Hints and tips for turning any hair type into refined, smooth hair.



Beach waves

Create textured waves for a tousled look.
Key features
OLED screen

Displays battery level, temperature setting and charging status during use.

Suitable for all hair types

Three precise heat settings (165°C, 185°C and 210°C) to suit your hair type, length and desired style.

Up to 30 minutes cord-free styling2

Delivers the thermal performance of a corded straightener. Fully recharges in just 70 minutes.

Style corded, for longer run time

To maximise styling time, start with your straightener fully charged and style with the cord.

Auto shut-off and Safety lock

Switches off after 10 minutes of inactivity for added peace of mind. Safety lock for immediate storage after use.

Ready to fly

Universal voltage and a Flight-ready feature let you travel abroad with your straightener.3
Technology
Flexing copper plates for less hair damage1

By gathering hair, flexing plates enable shiny, straight results with less heat. Less frizz and fewer flyaways2

Intelligent heat control

Integrated sensor system measures the temperature of the plates 100 times a second, ensuring constant power so heat never exceeds your chosen setting.

4-cell lithium ion battery

Drawn from Dyson's cordless vacuum technology, it delivers the thermal performance of a corded straightener.
Frequently asked questions
The Dyson Corrale™ straightener has a Flight-ready feature that disconnects the battery, designed to adhere to International Civil Aviation Organization (ICAO) regulations. Airline approval is required in advance if you're travelling with a battery-powered heat-producing product, so we recommend contacting them before you travel to let them know.
Then you'll need to remove the Flight-ready tag from your straightener before airport security and leave it disconnected throughout the flight. Please note that regulations in Japan mean you will not be able to fly in or out of any Japanese airports with your straightener.
Yes. Your straightener has universal voltage, so you can charge it in countries with different electrical voltages to the one in which you purchased it. You'll still need to check if you need a travel adaptor.
If you haven't done it already, insert your Flight-ready tag into your straightener. This will activate your straightener's controls. You should also fully charge your straightener to 100% before using it. If you're still having trouble getting started, you can watch the video at the top of this page, contact a Dyson Expert using live chat or call 0800 397 667.
Yes. If your straightener is left unattended with the power on for longer than five minutes, the heated flexing plates will automatically start to cool down. An alert will sound every 10 seconds and the Power button will flash. Pressing any button will re-activate your straightener. If left unattended for a further five minutes, your straightener will turn off completely.
Yes. The Dyson Corrale™ straightener comes with a heat-resistant travel pouch to store your straightener when it's in your bag. However, we recommend always allowing your straightener to cool before storing it in the pouch. A Safety lock also secures the plates for storage after use.
We recommend regularly cleaning your straightener's flexing plates, to keep them working at their best. First, turn your straightener off and wait for the plates to cool. Then, gently rub the plates with a damp, lint-free cloth to remove any stubborn hair product residue.
Your straightener will make prompt sounds at times such as when it reaches your desired temperature and when it has low battery. You can mute the prompt sounds by pressing the Power and Temperature (–) buttons at the same time for more than five seconds. For your safety, you can't mute the sounds for Sleep mode or alerts. To turn the prompt sounds back on, press and hold the buttons again.
Yes. You can view your straightener's temperature in Centigrade or Fahrenheit. Simply press and hold the Power and Temperature (+) buttons for more than five seconds to switch between the two. When your preferred unit shows on the screen, release the buttons.
The Vinca blue is a completely new finish for Dyson – flawlessly smooth, it was engineered specifically by CMF engineers. Sometimes, this porcelain texture may appear to change with touch, but it's easily refreshed with a slightly damp cloth after use. Please unplug the machine before cleaning.
In the box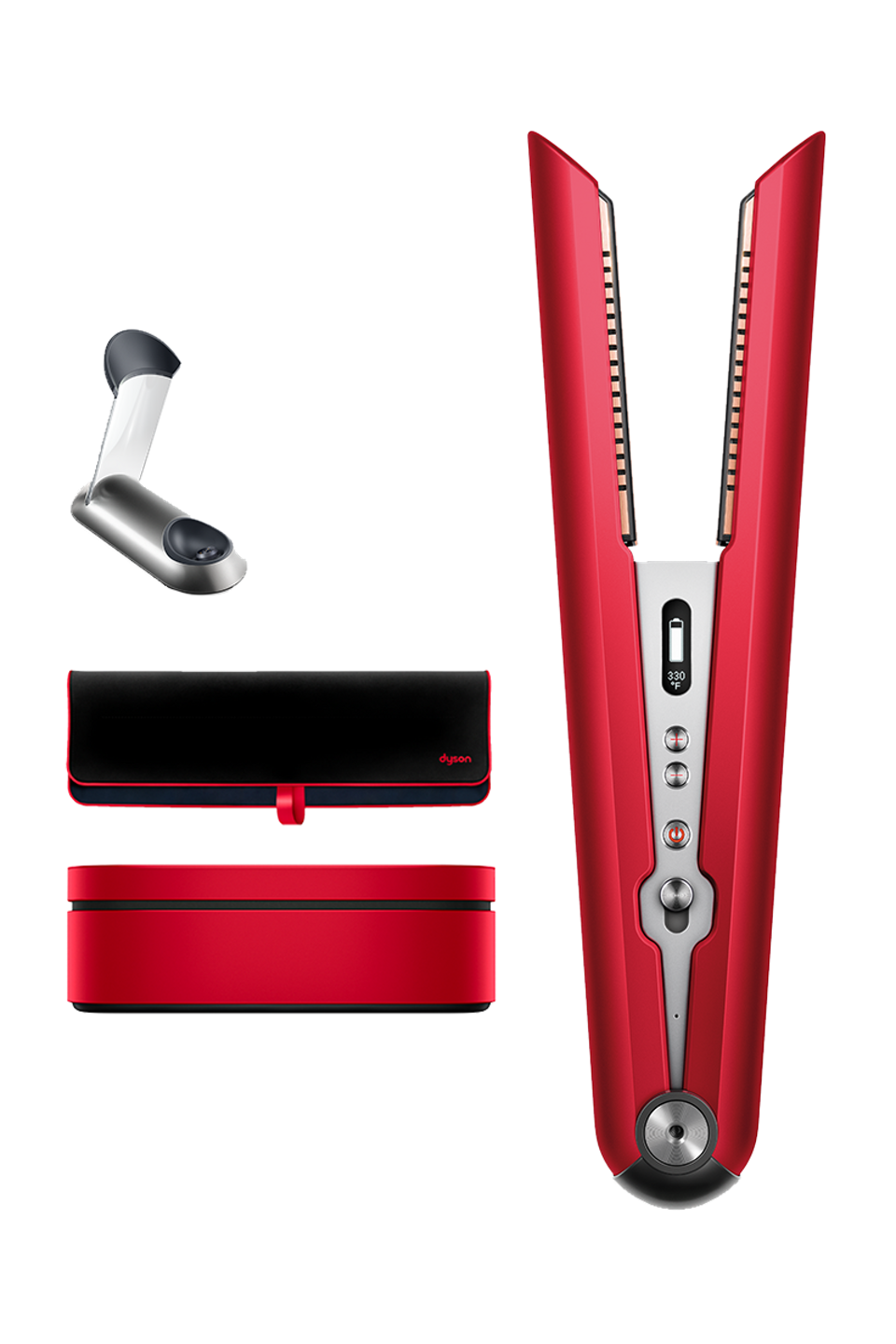 Limited edition Dyson Corrale™ straightener (Red/Bright Nickel)
Charging dock

Magnetic 360° charging cable

Heat-resistant travel pouch

Red presentation case
Specifications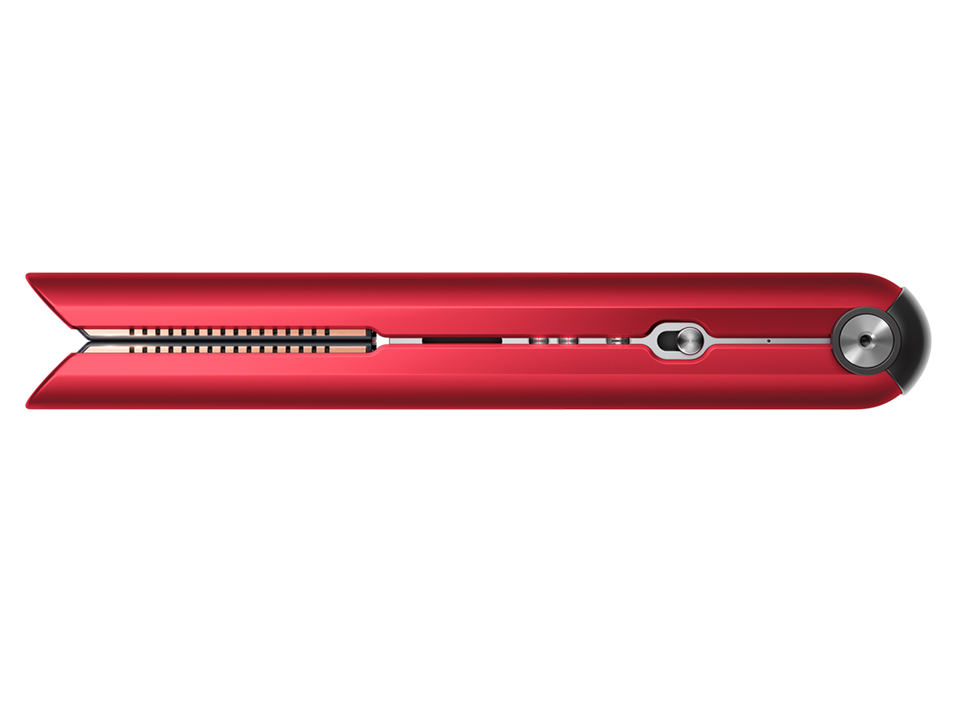 Price matched
Enhanced styling with less hair damage*.

Cordless versatility, corded thermal performance. Up to 30 minutes cord-free styling, style corded for longer run time.

Intelligent heat control. Regulates the temperature of the flexing copper plates 100 times a second, to never exceed the set temperature.

Engineered to create a range of styles.

2020 Prix de Marie Claire Beauty Awards Australia Winner.

Receive a special edition gift set valued at $89, plus get a Supersonic Origin for $399 when you add this product to cart.

Price matched

Usual price: $699
Was

$699.00
$499.00
Save

$200.00
Installment options with
&
Price matched
Enhanced styling with less hair damage*.

Cordless versatility, corded thermal performance. Up to 30 minutes cord-free styling, style corded for longer run time.

Intelligent heat control. Regulates the temperature of the flexing copper plates 100 times a second, to never exceed the set temperature.

Engineered to create a range of styles.

2020 Prix de Marie Claire Beauty Awards Australia Winner.

Get a Supersonic Origin for $399 when you add this product to cart.

Price matched

Usual price: $699
Currently out of stock
Was

$699.00
$499.00
Save

$200.00
Installment options with
&
Price matched
Enhanced styling with less hair damage*.

Cordless versatility, corded thermal performance. Up to 30 minutes cord-free styling, style corded for longer run time.

Intelligent heat control. Regulates the temperature of the flexing copper plates 100 times a second, to never exceed the set temperature.

Engineered to create a range of styles.

2020 Prix de Marie Claire Beauty Awards Australia Winner.

Get a Supersonic Origin for $399 when you add this product to cart.

Price matched.

Usual price: $699
Was

$699.00
$499.00
Save

$200.00
Installment options with
&
1 Thermal damage measured by hair strength, when creating an equivalent straight style using minimal heat. Tested on Corrale with flexing plates vs Corrale with solid plates.
2Exact run time depends on your hair and styling habits.
3Stricter regulations in Japan mean you will not be able to fly in or out of any Japanese airports with your straightener.
4Direct image analysis vs untreated hair