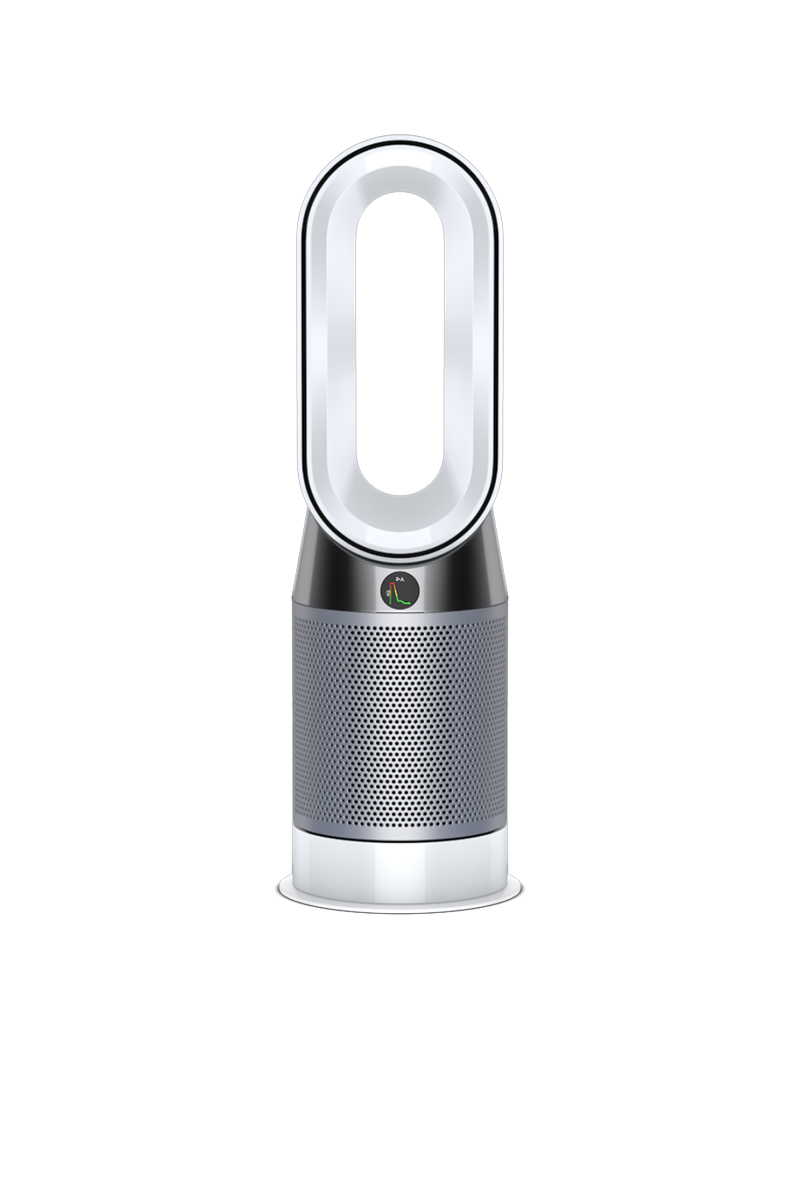 Dyson Pure Hot+Cool™ purifier fan heater (White/Silver)
Unfortunately, this product is no longer available.
How can we help?
Troubleshooting

Use our step-by-step tool helps you get your machine working again.
Dyson Pure Hot+Cool™ purifier fan heater
Only Dyson purifying fan heaters clean and heat a whole room properly.¹
All features
Heats in winter

With long-range, purified heat projection, it's quick to heat the whole room evenly.1

Cools in summer

In warmer weather, a powerful stream of purified airflow can cool you down.

Projects

Only Dyson purifying fans and heaters have Air Multiplier™ technology and 350° oscillation, to project air around the whole room.1

Senses

Automatically detects airborne particles and gases, then diagnoses and reports them in real time.

Captures

Activated carbon filters remove gases.3 Sealed HEPA filters capture 99.95% of ultrafine particles such as allergens and pollutants.4

Real data, real time

Monitor your air quality with the MyDyson™ app.5

Use one machine. To do three jobs.

The Dyson Pure Hot+Cool™ purifying fan heater purifies your air, and maintains a comfortable temperature all year round. So you don't need to switch between devices, or use up valuable storage space.

Night-time mode

Monitors and purifies using the quietest settings, with a dimmed display.

Remote control

Curved and magnetised to store neatly on top of the machine.

Easy filter maintenance

Your machine monitors filter life. The app will alert you if they need replacing, so you can always make sure your purifier is working at its best.

Certified Asthma & Allergy friendly™

Dyson purifiers are certified asthma & allergy friendly™ by Allergy Standard Limited.

Sensitive Choice

Sensitive Choice® approved by National Asthma Council Australia.
1 Tested for air projection (DTM801), purification coverage in a 81m3 room (TM-003711), and heating performance in a 35m3 room (DTM 961).
2 Tested in a 35m3 room (DTM961).
3 Tested to JEM 1467 (acetic acid, acetaldehyde, ammonia), GB/T18801 (formaldehyde, benzene) and DTM-003282 (NO2). Capture rates vary.
4 Tested for filtration efficiency at 0.1 microns (EN1822).
5 Requires device to run app, Wi-Fi or mobile data, Bluetooth 4.0 support, and iOS version 10 or Android version 5.1 (or above). Standard data and messaging rates may apply.