Dyson's quietest, most powerful air purifier yet.
Purifies rooms up to 100m², evenly.1
Engineered for professional environments such as offices, classrooms and hotels.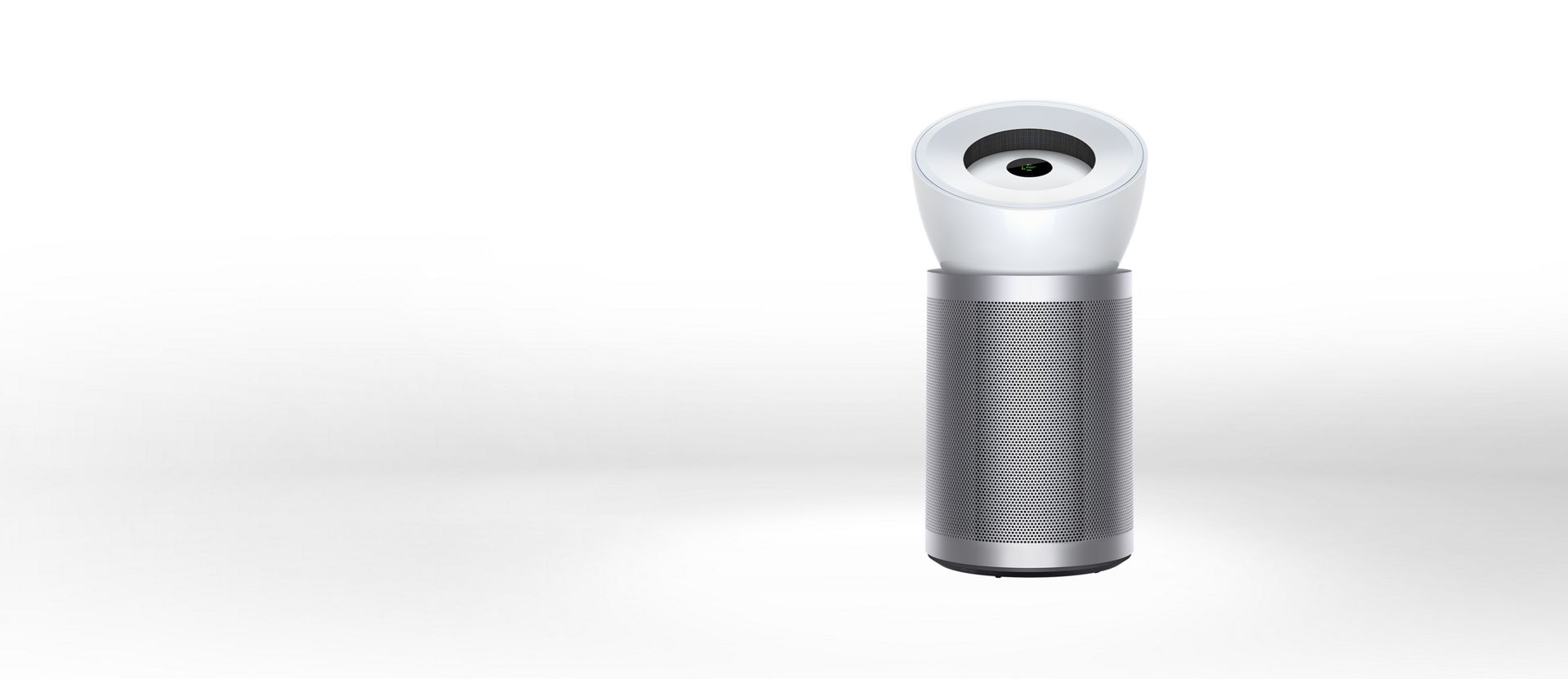 Specifications
Fixed angle
50°

---

Cord length
1,800mm

---

Carbon filter life
8,760 hrs

---

Standby power consumption
<0.5w

---

Low airflow setting
50 ltrs/second

---

Room coverage
100m²

---

Quiet setting
43dBA

---

High airflow setting
90 ltrs/second

---

Weight
11.57kg

---

Maximum setting
55.6dBA

---

HEPA filter life
21,900 hrs

---

Height
830mm

---

Length
434mm

---

Width
415mm

---
It's our business to understand air pollution, so yours doesn't suffer
Workspaces can harbour pollutants such as viruses, bacteria, Volatile Organic Compounds (VOCs), pollen and formaldehyde. Everyday items such as cleaning products and printers, furniture and flooring, can release potentially harmful microscopic particles, and remain in the air for many years.3

Dyson purifiers remove these common pollutants from commercial environments
Paint, varnishes and printers

Formaldehyde

Traffic, building materials and furniture

Benzene and VOCs

Pollen, dust and allergens

PM10

Ultrafine particles

PM0.1
Senses, captures and destroys
Senses and reports CO2 levels

1.44 inch LCD screen displays carbon dioxide readings and airflow mode – senses and reports air quality levels in real time.

Whole-machine HEPA 13 filtration2

Three phases of purification draw pollutants in from all directions. And the whole machine is fully sealed to HEPA H13 standard – so what goes in, stays in.

Destroys formaldehyde, continuously3

The solid-state formaldehyde sensor works simultaneously with a selective catalytic oxidisation filter, to destroy formaldehyde molecules 500x smaller than 0.1 microns.
Powerful and quiet
The high-velocity, low-pressure system produces low noise levels of just 55.6dB.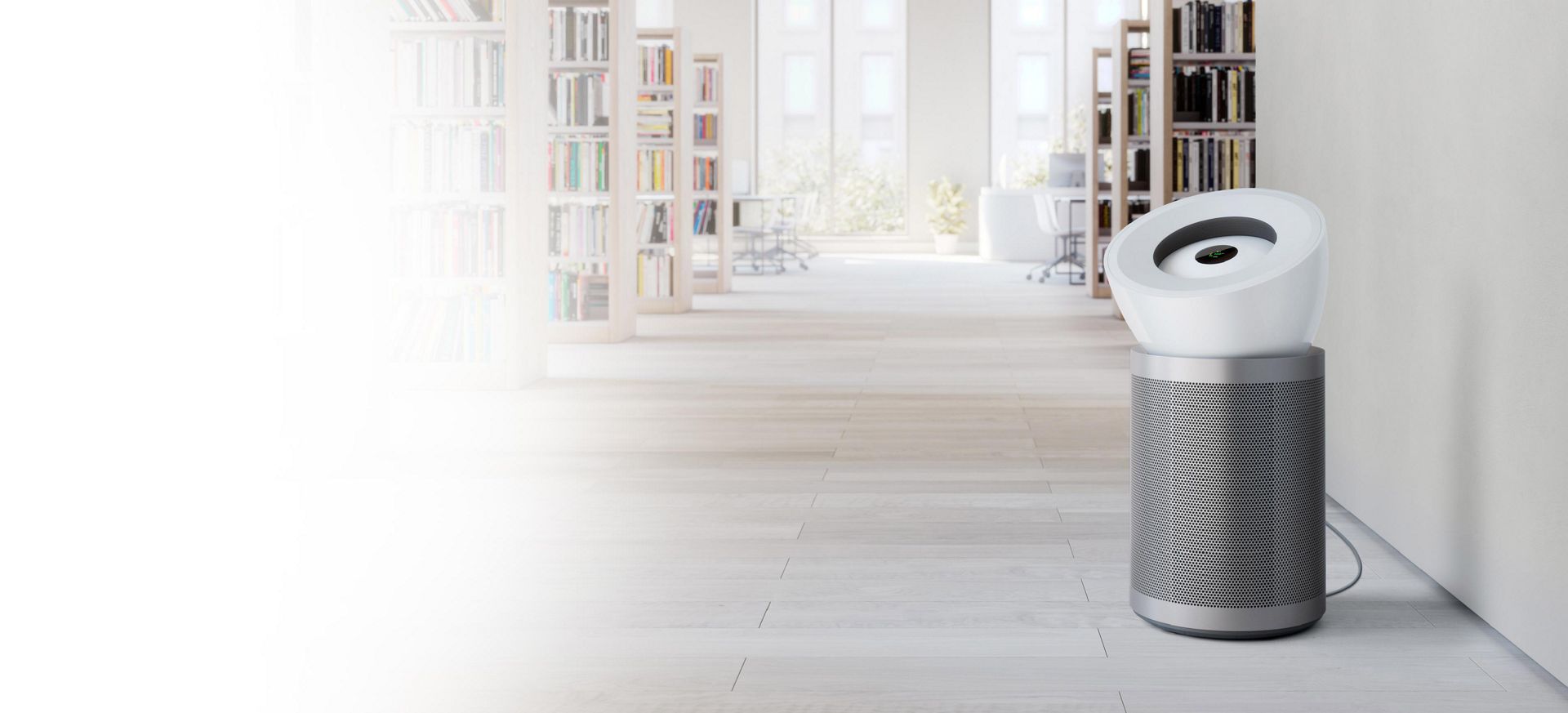 Acoustically engineered
The Helmholtz silencer traps sound energy and reduces low frequency noise, while the motor mount reduces vibration – so the little noise you hear, is quiet even at full power.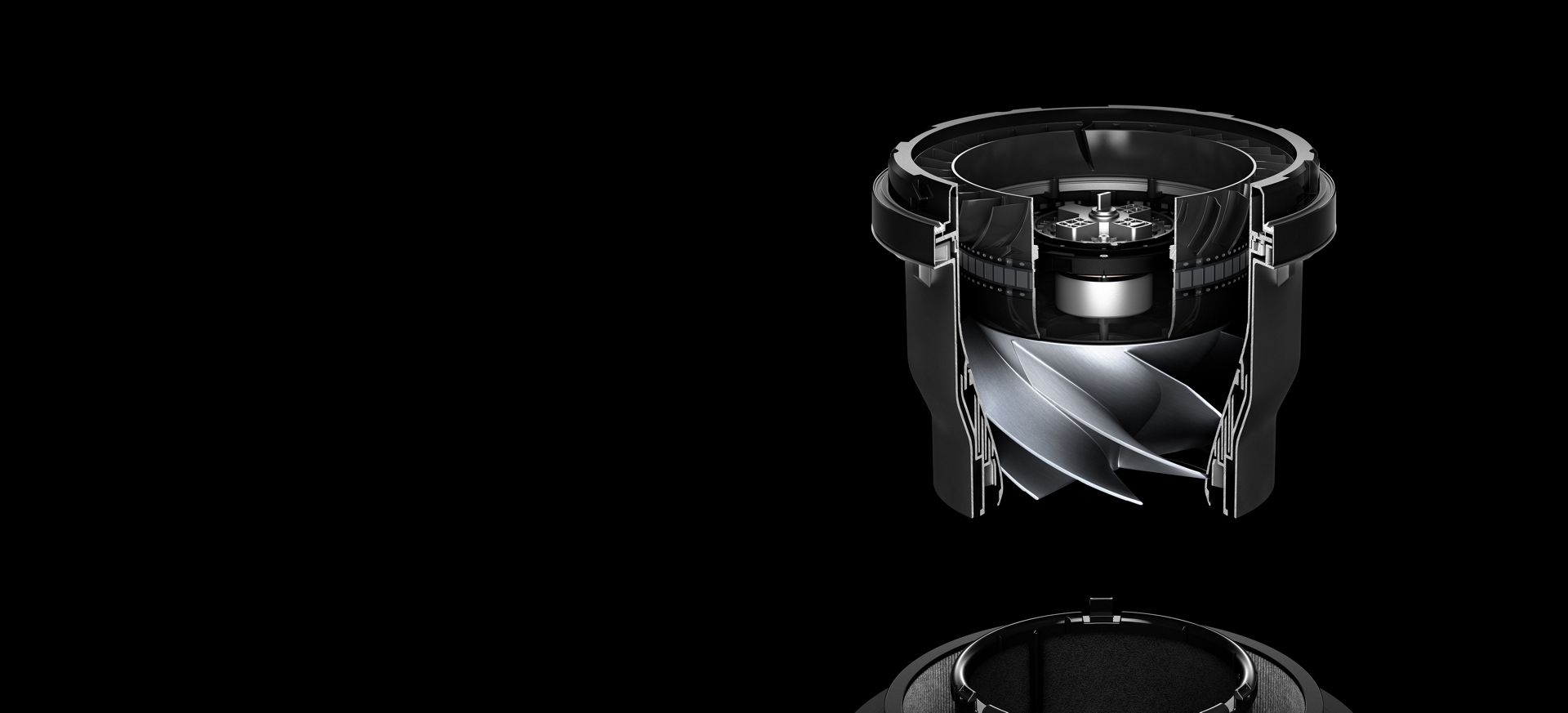 Additional features
HEPA filter

The HEPA filters contain 21 metres of borosilicate microfibres, pleated over 450 times, and lasts 21,900 hours.

Activated carbon filter

430,000m² of activated carbon captures microscopic particles, and lasts 8,760 hours.

Single button operation

Two airflow speeds to increase or decrease airflow when needed.
Get in touch to discuss the right purifier for your business
Every business is unique. Learn more about the range and what purifier is most suitable for your business.

Frequently asked questions
Our latest purifier is acoustically engineered to operate quietly – even at its highest power setting. So it reduces your exposure to pollution, without disturbing you at the office or in the classroom. It records just 55dBA of sound power at full speed.
In Dyson's latest purifiers, it's not just the filter that meets HEPA H13 standard, it's the whole purifier. So they don't just capture pollutants, they prevent them from leaking back into the air you breathe. High-pressure seals at 24 critical points, combined with Dyson's fully-sealed filtration system, means our whole purifier meets HEPA H13 standard. So what goes inside, stays inside.
Some manufacturers publish dB readings based on Sound Pressure levels, which can be easily manipulated by changes in the environment. They might also be tested at low fan speeds which can limit purification performance.

At Dyson we measure and publish Sound Power levels dB(A) – the pure reading taken directly from the machine – at maximum fan speed, where purification is at its optimum.
Increased CO2 levels can impact cognitive function. Our latest purifier senses and reports CO2 levels and notifies when they exceed recommended levels, alerting on the LCD screen when to ventilate.
1 Test completed in a 100 m2/1000ft2 (12.7m x 7.9m) room with the purifier placed in one corner and source of pollution in opposite corner. The room had 36 sensors to determine PM2.5 distribution and purification. Results may vary in practice. 2 Particle challenge by DEHS oil specified in EN1822 within a chamber specified in ASTM F3150. Tested in Max Mode at IBR US, for whole machine efficiency above 99.95%. 3 Third party full machine testing based on GB/T 18801-2022 formaldehyde cumulative clean mass testing with continuous injection until plateau of formaldehyde CADR is achieved. Results may vary in practice. 4 Tested for filtration efficiency at 0.1 microns (EN1822, ISO29364).