Cu-Beam Duo suspended light
Powerful and precise. Fully flexible up and down-light.
Other colours available, contact us for more details.
• Heat pipe technology maintains LED brightness
• Two custom lenses focus 9400 lumens. From just two LEDs.
• Custom-built driver controls direction, dimming and ratio of light
• Available in two colour temperatures (4000K and 3000K)

$3,150.00
Excluding GST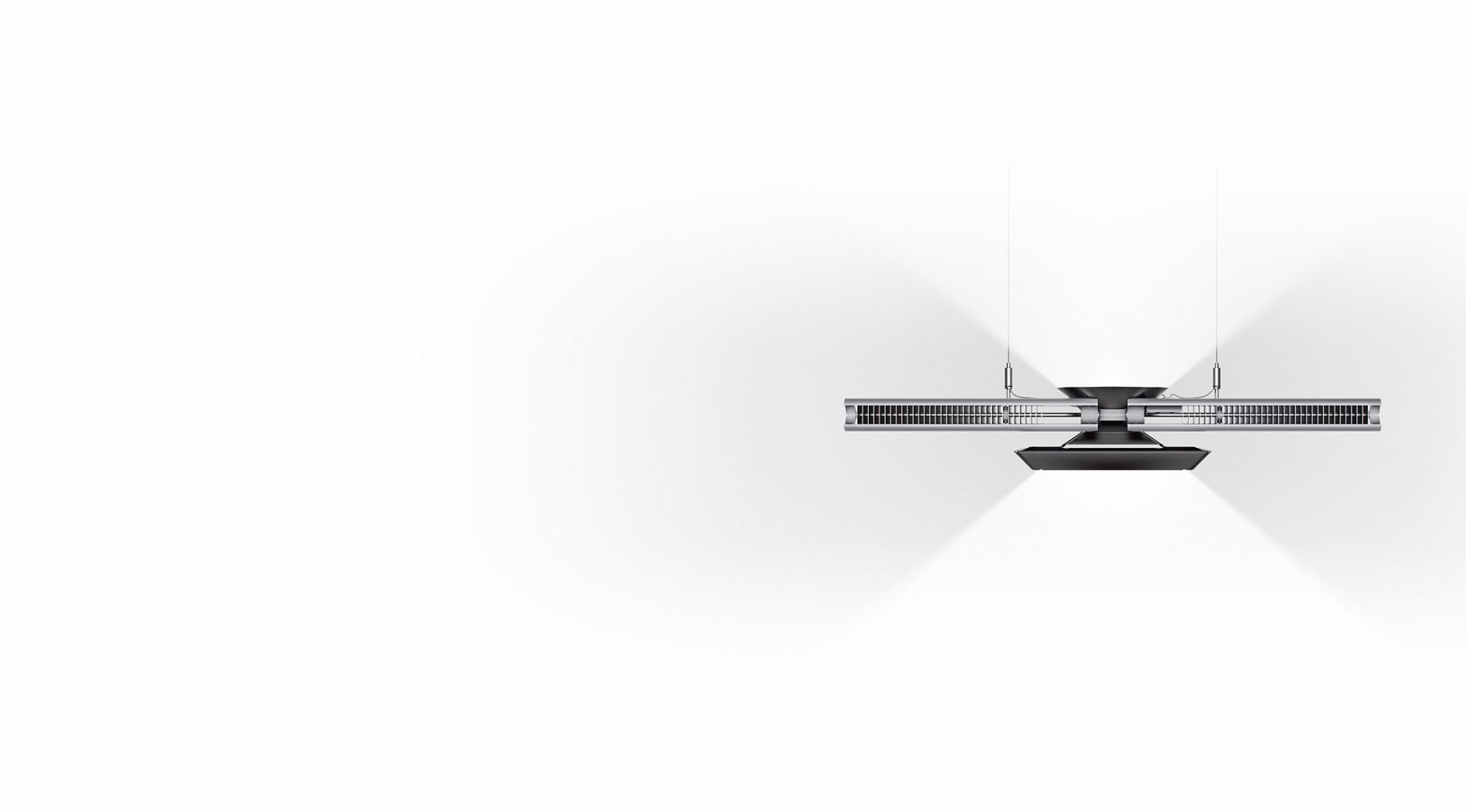 Key features
Maximum efficiency. Minimum waste.
Ricochet™ technology uses one-touch shutters and a reflective surface, to convert unused down-light into usable, useful up-light. Combined with the efficiency of Heat pipe technology, no light – or power – goes to waste.

Fully flexible light. Up and down.
A custom-built driver controls the direction, dimming and ratio of powerful up and down-light. From a wide pool for presentations, to a focused pyramid on work surfaces, Cu-Beam Duo light covers any task, at any time.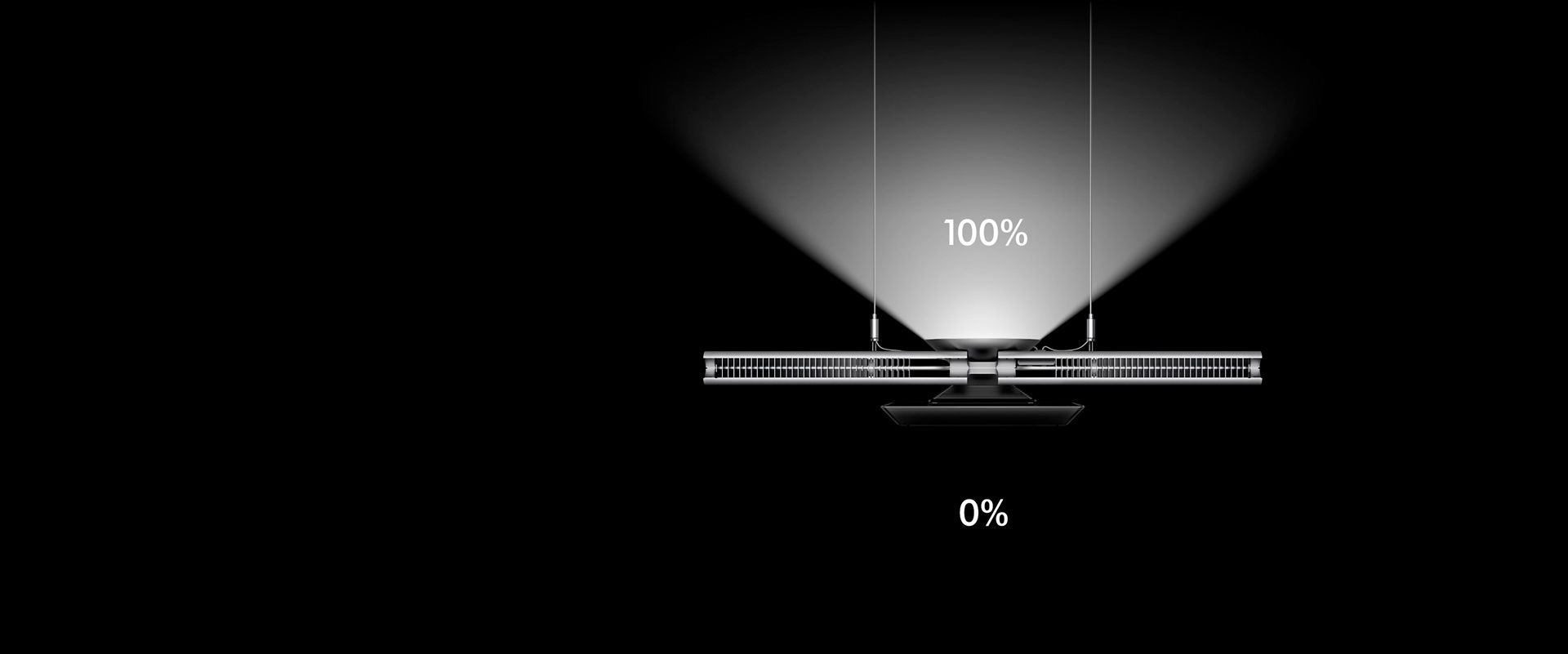 Key technology
Heat pipe technology maintains LED brightness


Continuous cooling cycle increases the single LED's longevity with no loss or deterioration of light quality.

Two custom lenses focus 9400 lumens. From just 2 LEDs.


The custom-engineered lenses optimise the output of two high-power LEDs.

High efficacy


Heat pipe technology effectively cools the Cu-Beam Duo light, so it can run at 107lm/W (3000K) or 113lm/W (4000K).
Additional features
Fluorescent lighting is flawed, LEDs can be misused


Commercial lighting largely relies on inefficient, costly fluorescent bulbs or the ineffective use of multiple LEDs. Cu-Beam Duo ensures no light is wasted, providing effective up and down light.

Powerful up and down-lighting


Combined, the two high-power LEDs can project 9400 lumens at 4000K. Heat pipe technology cools the LEDs to optimise longevity, without loss of brightness.

Controlled pyramid of down-light


Mounted at 1.3m above the task area, the down-light projects 722lx evenly over an area of 3.2m x 1.6m.

Glare and flicker control


One-touch shutters hide glare from users. Line of sight and reduce glare to below 1%.

Light, precisely where you need it


Two custom-engineered lenses and adjustable one-touch shutters precisely focus the two high-power LEDs.

Wide distribution of up-light


Suspended at 400mm from the ceiling, the up-light illuminates evenly over an area of 4m.
Specifications
Colour temperature
3000 K or 4000 K

---

Light source
Chip on board LEDs

---

CRI
80 minimum

---

Rated power
83w

---

Light output
9400 lm

---

Luminous efficacy
113 l/W

---

LED life time
180,000 hrs

---

Light output ratio
50%

---

Standby power consumption
0.5 W

---

Input voltage
100-240 V

---

Frequency
50/60 hz

---

Weight
3.24kg

---
Frequently asked questions
Use a microfibre cloth, or solvent- and moisture-free compressed air canister, to clean the appliance. Always ensure the appliance is turned off before any cleaning.
The appliance is designed for dry, indoor locations only. Operating environment range 0°C (32°F) to 40°C (104°F) and 10-95% RH non-condensing.
This appliance is compatible with DALI and analogue dimmer products.
Choose your model
Dyson Cu-Beam Duo suspended light


Powerful and precise. Fully flexible up and down-light.

• Dimensions: L 725 x W 206 x H 97 mm

$3,150.00
Excluding GST

Dyson Cu-Beam Up suspended light


Powerful and precise. Fully flexible up and down-light.

• Dimensions: L 720 x W 130 x H 203 mm

$2,864.00
Excluding GST

Dyson Cu-Beam Down suspended light


Powerful and precise. Fully flexible up and down-light.

• Dimensions: L 720 x W 130 x H 170 mm

$2,864.00
Excluding GST