Dyson and Little Scientists bring air science to life for children
Working with the not-for-profit education program Little Scientists, we're launching a national air quality education initiative to engage young minds, using our purification technology to demonstrate what's in the air and how we can clean it.
August 2020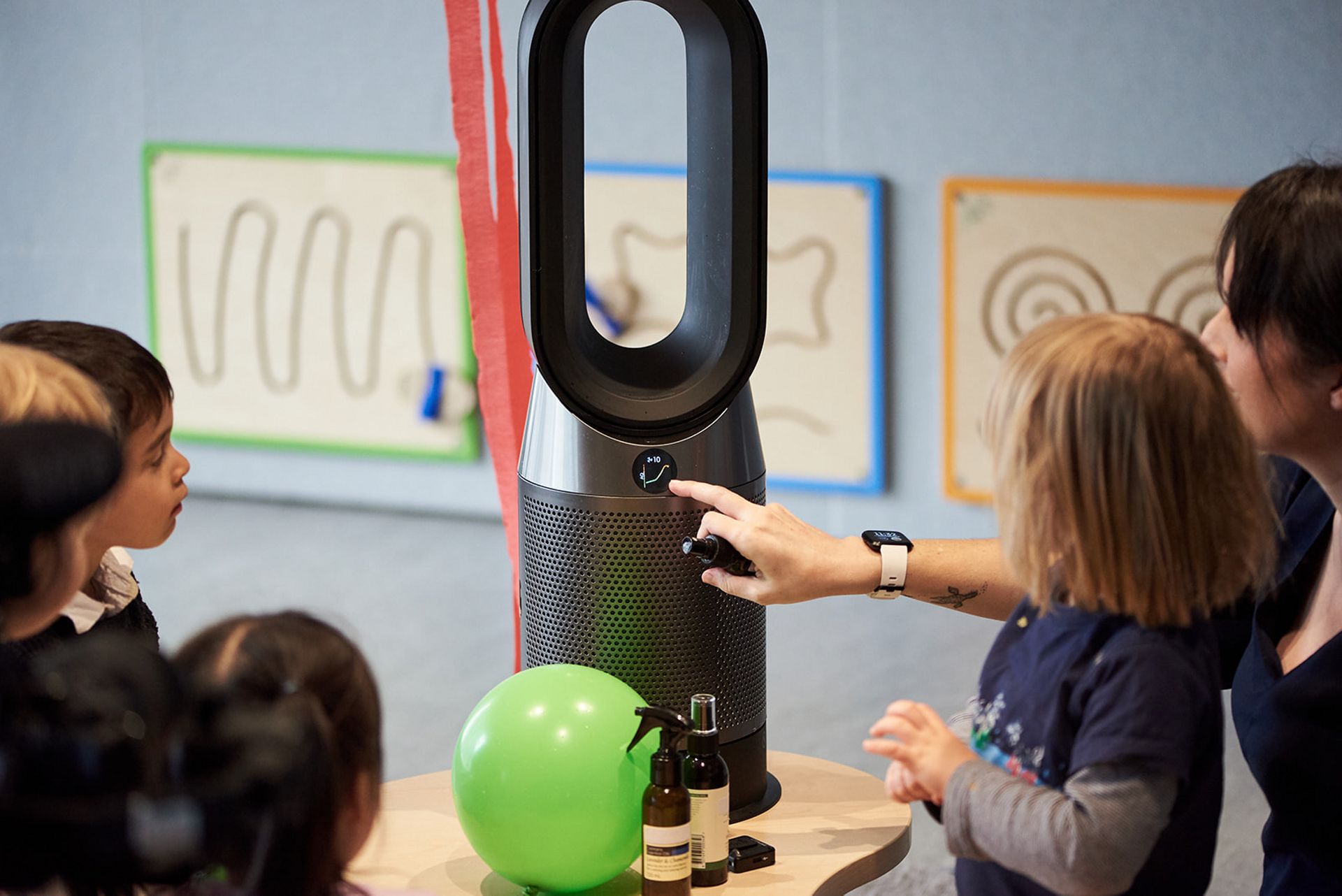 This year, Australia has experienced some extreme conditions, from devastating bushfires to a global lockdown in response to the COVID-19 pandemic. In a time when people have become increasingly conscious of their wellbeing and the air they breathe, we're hosting a national air quality education initiative in partnership with Little Scientists Australia, a not-for-profit program for early childhood educators and teachers.

Education about air quality is paramount and as a nation, it's important to develop a deeper and more holistic understanding of what's in the air we breathe, across all age groups. Making the most of our expertise in air purification technology, the project aims to provide education on air science through hands-on practical demonstrations using the Pure Hot+Cool purifying fan heater. To kick start the project, we donated 100 purifying fans to early learning centres across Australia.

Every day we can breathe in up to 9,000 litres of air*. At the same time, the subject of air quality is appearing more frequently in everything from casual conversations to global debates. Despite this, and people spending up to 90% of their time behind closed doors, there is still a lack of understanding that air pollution can be produced from everyday activities in our home*. A recent study found that more than half of Australians were not aware that indoor air pollution can have similar effects as outdoor air pollution*.

Aligned to the Early Years Learning Framework, Little Scientists offers inquiry-based STEM workshops for early childhood educators, encouraging daily scientific exploration with children aged three to six years. Collaborating with Dyson engineers, special edition Air Workshops are being held nationally. They focus on the importance and practical relevance that real-life technology can play in air science and air quality, encouraging educators to investigate what's in the air with the children in their service.

"While children can take up to 30,000 breaths a day, their lungs are still developing, which makes them vulnerable to air pollution," says Tom Mogridge, Senior Design Engineer, Dyson Environmental Care.
"City air can contain potentially harmful pollutants produced from everyday activities – including particles and gases such as VOCs (Volatile Organic Compounds), which can be found in air fresheners, deodorants and cleaning products; PM10 from pollen, dust, mould spores and pet dander; PM2.5 from smoke, bacteria and allergens, and of course N02, from auto emissions and cooking with gas," continues Tom Mogridge, Senior Design Engineer, Dyson Environmental Care.

"That's why this initiative is so vital. It helps people understand more about air pollution while also cleaning the air they breathe."

Our latest air purifier provides a unique opportunity for children and parents to learn what's really in the air they breathe. By getting to grips with our purifiers in the special edition Air workshops, those taking part can see in the different pollutants in the air in real-time.

"Understanding air science can be difficult because air pollution can't always be seen," says Mogridge. "Using our latest air purifier and its LCD screen in practical learning situations allows users to better understand what's in the air by making the invisible visible."

"The machine automatically detects airborne particles and gases and simultaneously reports to the LCD screen and MyDyson™ app in real-time, encouraging wellbeing and maintaining comfort levels indoors."

Our latest purifier has been engineered to sense airborne particles and gases, and display this information on its LCD screen, then capture the pollutants and project clean air. The multi-functional machine can also be used for heating in winter, cooling in summer and purifying all year round.

"The first round of our Air workshops in 2019 was received wonderfully by our early childhood educators. Having Dyson's Senior Design Engineer, Tom Mogridge, co-facilitate and explain how Dyson engineers its consumer products and the science behind them, brought a very different yet perfectly fitting angle to our audience," says Sibylle Seidler, Little Scientists Project Director.

"With bushfire season having started so early, it really showed us the importance and relevance of air science in our everyday lives – including which particles we breathe in, the impact of unhealthy levels of pollution and sources of pollutants we find in our homes and workplaces," concludes Seidler.

*Lungs, Science & innovation, National Geographic, https://www.nationalgeographic.com/science/health-and-human-body/human-body/lungs/
*The National Human Activity Pattern Survey (NHAPS): A Resource for Assessing Exposure to Environmental Pollutants, Neil E. Klepeis and others, Lawrence Berkley National Laboratory, 2001, https://indoor.lbl.gov/sites/all/files/lbnl-47713.pdf
*YouGov survey commissioned by Dyson. Total sample size was 1,544 adults aged 18+ years. Fieldwork was undertaken between 21st-27th November 2017. The figures have been weighted and are representative of all Australian adults aged 25-64 years. The survey was carried out online.