Dyson's air quality backpack measures daily air pollution exposure for Sydney-based mum
From cooking and cleaning to a trip to the beach, using our portable air quality backpack we measured Leah's exposure to air pollution throughout the daily routine.
August 2020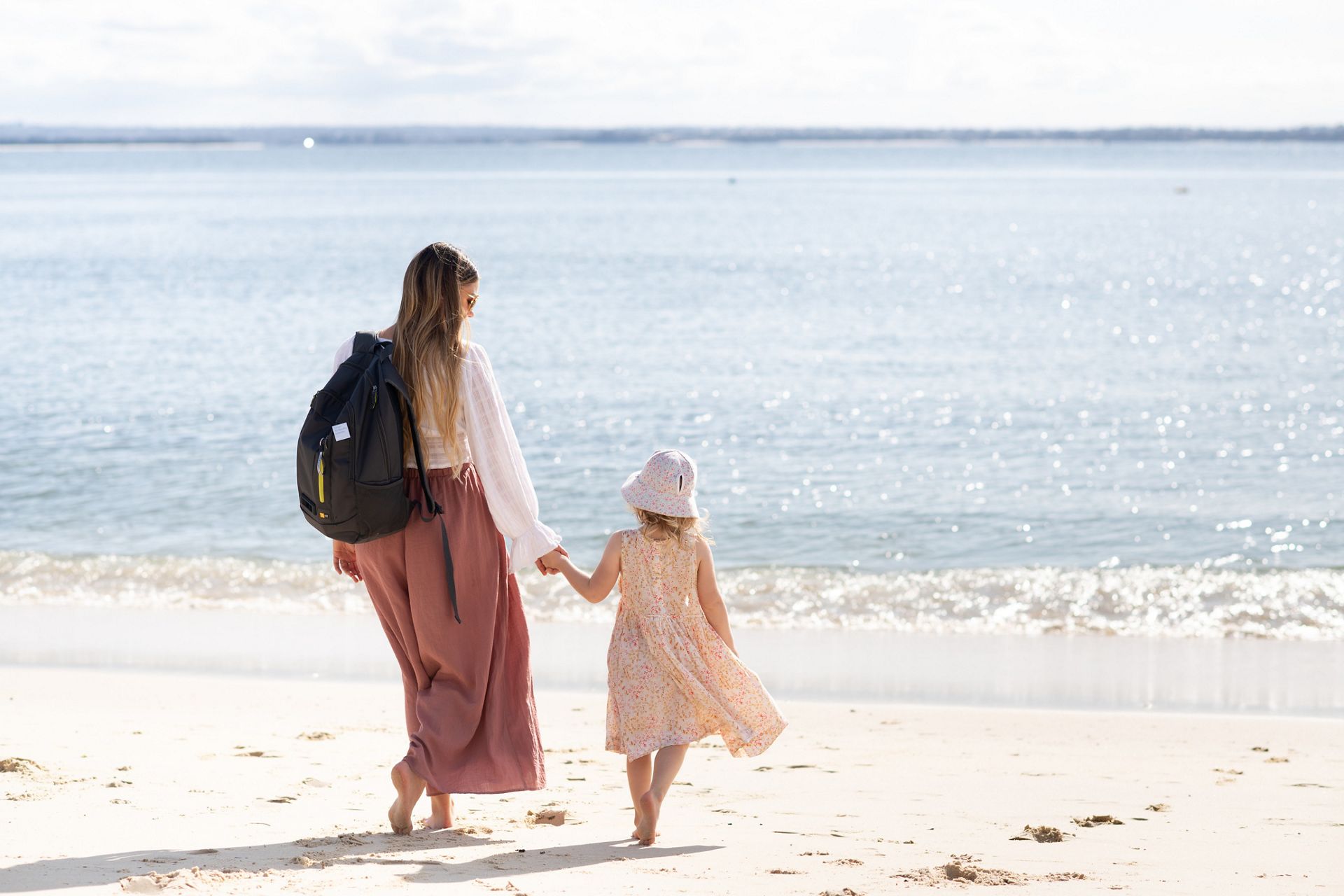 Leah is just one of a group of journalists and volunteers across the globe who are working with Dyson to raise awareness about air pollution in cities across the world. The Sydney air quality backpack project is part of a sustained effort by Dyson to enhance awareness about air quality issues in the Australian community and empower people to take control of their indoor air, following recent school education initiatives and donations to communities affected by bushfires.

Re-working existing sensing technology used in Dyson air purifiers, Dyson's prototype air quality backpack is a portable air sensing device which collects air pollution data on the move. With on-board sensors, a battery pack and GPS, Dyson hopes to use this sophisticated technology to offer insight into personal exposure to air pollution and how to avoid it.

Dyson engineers analyse the findings by pairing the air sensor and GPS data from the backpack with diary entries documenting the daily activities of the participant. This allows them to understand what may have caused air pollution events and how the individual might be able to lower their exposure in the future.

The air quality backpack was initially developed by Dyson engineers for the Breathe London study with Kings College London and the Greater London Authority. The study involved 258 children in 5 schools in London, and sought to understand exposure to two pollutants, fine particulate matter (PM2.5) and nitrogen dioxide (NO2), on the school run. As a result of the study, 31% of the children said they would change the way they commute to and from school to reduce their exposure to air pollution.

Leah's data findings showed an increase in pollution levels during routine activities such as cooking, cleaning and travelling by car. Data indicated that while overall exposure levels over the two day period using the air quality backpack appear low, pollution events throughout the day caused pollution levels to spike into concentrations that register as 'high' on the Dyson purifier pollution scale.
Commenting on Dyson's project, leading air quality and health expert, Professor Sotiris Vardoulakis, from the Australian National University (ANU) Research School of Population Health said, "We are often exposed to many different types of air pollution, such as heavy traffic pollution and smoke from bushfires. The health effects of different air pollutants can depend on the individual. However, certain groups may be particularly sensitive to the effects of air pollutants including young children, pregnant women and the one in nine Australians who suffer from respiratory health conditions such as asthma, hay fever or bronchitis. So, understanding air quality is extremely important to decrease one's own exposure to pollution."

An evening BBQ in Leah's garden showed high levels of pollutants PM2.5 and NO2, likely caused by the combustion process during cooking which can emit fine particulate matter. NO2, a pollutant often associated with vehicle emissions, was also detected when Leah took a trip to the beach in the car with her family while using the backpack.

Meanwhile, volatile organic compounds (VOCs) were detected when Leah was doing activities in the house such as using cosmetic products, doing laundry and spraying pesticides outdoors. VOCs is a collective term for thousands of different chemicals, many of which are found in common household items or products. Interestingly, while Leah was cleaning, levels of PM2.5 registered at higher concentrations, likely caused by the disturbance of household dust.

"Technology advancements in portable air quality monitoring devices is increasing and using these is critical for translating the research findings into better everyday practice to reduce air pollution, both to understand our personal exposure and what we generate as individuals. Education around the different types and source of air pollutants will help people adjust their behaviour – by taking actions such as avoiding busy highways, commuting to work differently, increasing ventilation when cooking, using more environmentally friendly cleaning products or using a purifier with a HEPA filter inside the home," explained Professor Vardoulakis further.

This project is the most recent example of Dyson's commitment to expanding people's understanding of air pollution in the region and empowering them to make positive change. In February 2020, Dyson donated over $600,000 worth of purifiers and vacuums to bushfire-impacted Australian communities. Within three weeks, 400 Dyson Pure Cool purifying fans were distributed to 88 schools across the Australian Capital Territory (ACT) in areas affected by bushfire smoke pollution. Dyson also hosts a national air quality initiative with Little Scientists Australia, a non-for-profit program for early childhood educators and teachers. To support the program, Dyson is donating 100 purifying fans to early learning centers in Australia.

Dyson is also using its air quality backpack to understand personal air quality exposure on a global scale, most recently to investigate the impact of the COVID-19 lockdown on air quality globally. Participants in cities across the world have been wearing the backpack during essential travel in this period and the data findings will be released in October.

"Our engineers have developed intelligent sensors using knowledge derived from years of experience and research in air cleaning technology. Using our unique algorithm to process detailed reports of air pollution exposure, this innovative technology allows us to monitor air quality indoors, outdoors and on the move. What's more, it all fits within a backpack," says Alex Knox, Vice President of Environmental Care at Dyson.