Hair styling for men by Dyson
We've compiled four simple and sophisticated ways to style hair using a hair dryer for men.
18 July 2022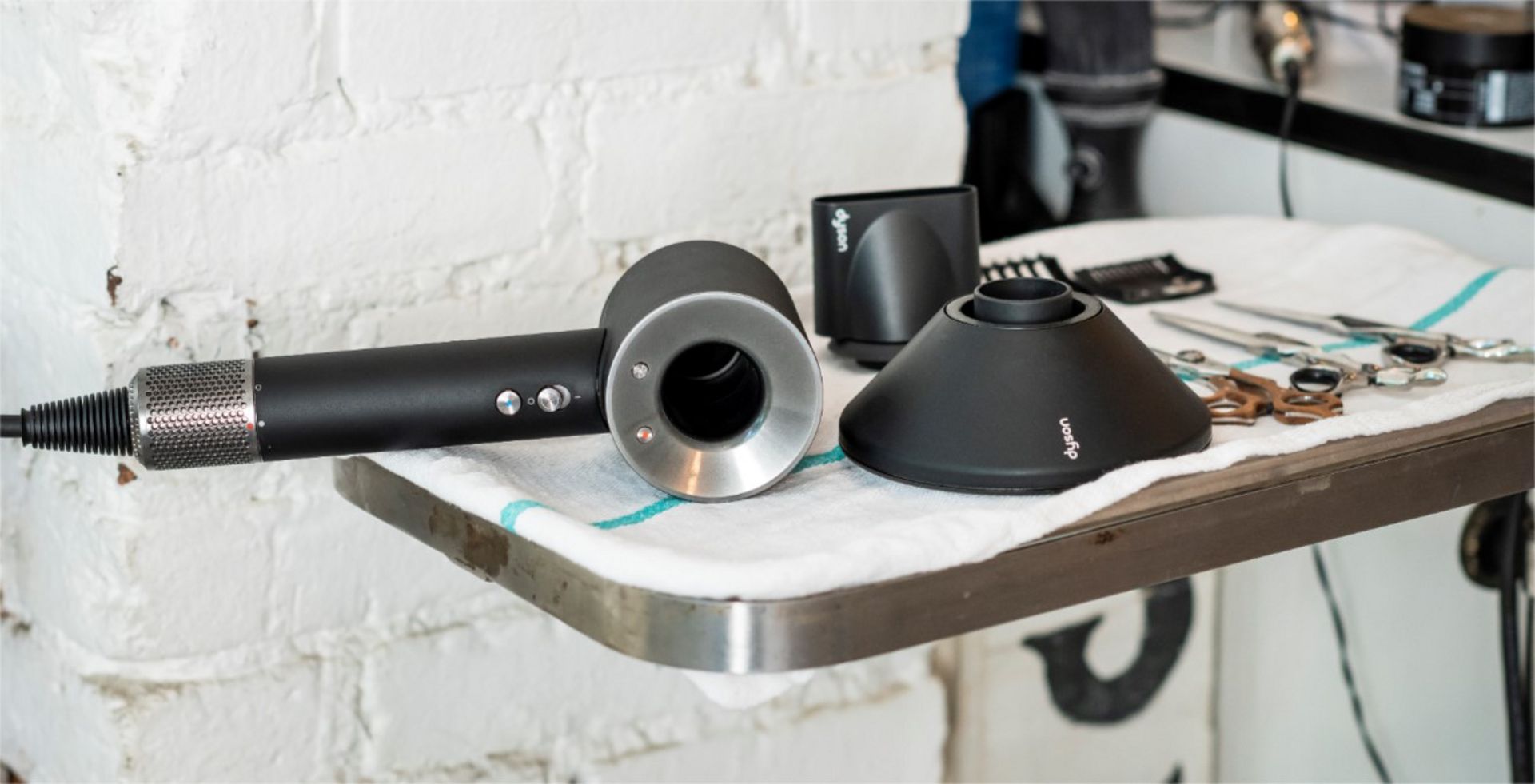 Underpinning our hair care technology is hair science. Yours looks best when healthy and strong, and Dyson's research into what damages hair and how to protect against it have enabled us to create supportive yet powerful tools.
As Amy Johnson, Dyson's Global Education Manager explains, "There is no difference between male and female hair in terms of growth cycle and structure. Biologically, they are the same. However, there is a clear difference in the hair styles that men and women follow".
To achieve a range of styles efficiently and keep shine and thickness in check, Dyson developed the Supersonic™ hair dryer . Amy says – "Dyson's Supersonic hair dryer is engineered for fast drying, with intelligent heat control to help protect shine. The attachments also cater to different hair types to help achieve varied hair styles."
For short hair styles for men or what to do for men's textured hair, read on. We show how to achieve stylish looks using the best hair dryer for men ahead.
How to style men's hair in four looks
The latest in hair trends celebrate natural texture and volume. By focusing on and supporting your hair type, you can customise your Dyson attachments to it. Our men's hair styling tips and tools make each style effortlessly achievable.
Fringe hairstyle
Ideal for hair types 1 & 2

For this fringe hairstyle, men with straight to wavy hair are best suited. Fringes have featured across recent fashion weeks, and this stylised adaption provides smooth yet volumised locks. The precision-engineered heat and speed settings in the Dyson SupersonicTM help to dry hair efficiently whilst still being kind to fine hair and sensitive scalps.

How to get this look:

Using the gentle air attachment, pre-dry hair on the #2 heat setting and #2 speed setting. As you dry, lift the roots with fingers to create volume.
Once dry, use the styling concentrator at the #2 speed setting to achieve a smoothed texture. Brush hair, moving backwards and in multiple directions.
To achieve more of a men's textured hair look, add wax through hair.
Natural Waves
Ideal for hair type 3, shoulder-length or longer

When figuring out how to style long hair, men usually attempt to shape everything at once. One of the lesser-known men's hair styling tips for length is to pay attention to sections as you go. To dry and style separate sections of hair quickly, the Supersonic™ uses a controlled and powerful jet of airflow.

How to get this look:

Using the diffuser attachment set at #2 speed and heat settings, hold the Supersonic™ to each section until dry.
Once sides are dry, tilt your head down and hold the attachment to the hair above neck.
Flip hair back and shake out curls for the final look.
Mature hair
Ideal for mature hair types 1 & 2

The mature men's hair type usually presents some thinning, an increase in sensitivity on the scalp being common too. This style centres around volume, to achieve the appearance of fuller hair. To support dry or sensitised scalps, the Gentle air attachment on the Supersonic™ provides gentle airflow.

How to get this look:

With the gentle air attachment set to #2 for speed and heat, pre-dry hair.
To create volume, lift the roots with fingers and focus the dryer on the scalp area.
When roots are dry, brush hair back with fingers. Add wax to hold and finish the style.
Textured afro
Ideal for hair type 4

A current trend in short hair styles for men with type 4 curls has a longer top paired with an undercut. When trying to understand how to style short hair, men often focus on volume but forego shape. To hold hair in shape, the Wide tooth comb attachment is round-tipped and flexible, allowing it to adapt to the shape of the scalp.

How to get this look:

Section hair at front and back and apply your favourite smoothing product throughout.
With the wide tooth comb attachment on #3 speed and heat setting, comb through each section, working from ends to roots.
Comb until completely dry and set in the preferred shape