Ankle Foot Orthosis invention designed to 'grow with your child' wins national James Dyson Award
RMIT student's sustainable entry supports children with walking impairments
26 August 2021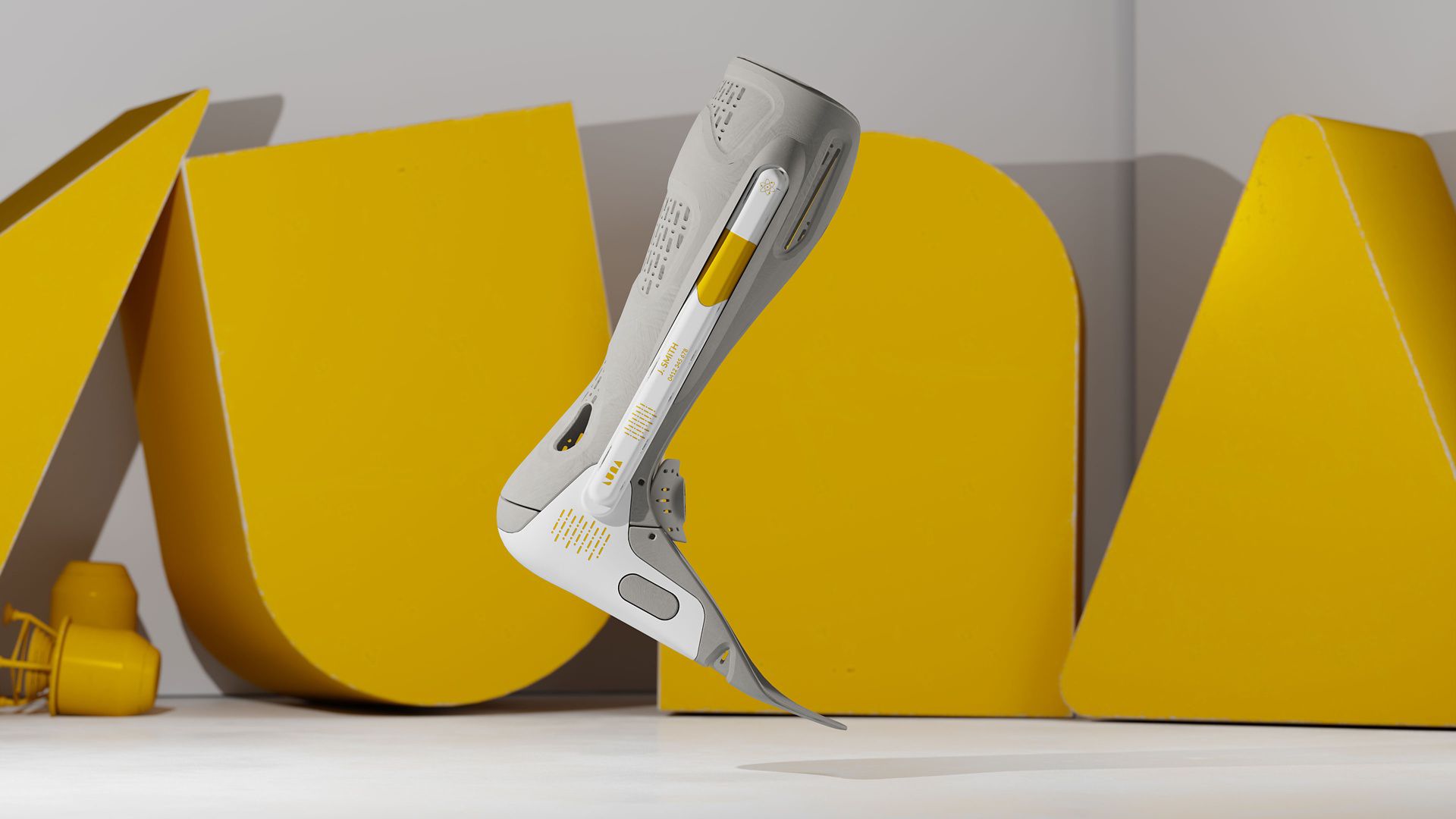 This year's James Dyson Award National Winner is RMIT University's Aaron Nguyen, designer of the LUNA Modular AFO, an Ankle Foot Orthosis (AFO) system for children with Hereditary Spastic Paraplegia (HSP), designed to adapt to the growing users modularly increasing the AFOs product life and comfort for the user.
Every three weeks in Australia, a child is born with a HSP mutation, a broad group of inherited, degenerative disorders characterised by impaired walking due to spasticity (stiffness) and weakness of the leg. Having grown up with two relatives with HSP, Aaron became aware of the problems caused by current orthoses provided to users.
The Invention
The rigid thermoplastic forms used to create current AFOs are intentionally very tight fitting to give the user the optimal support. However, with growing users, especially children, it often leads to bruising, blistering and cuts, due to systematic flaws in the fabrication process. The LUNA Modular AFO is an AFO designed to adapt and conform to growing users extending the life of the product to several years rather than 6 to 8 months. The invention uses semi-flexible plastics to soften sensitive areas like bone protrusions. The bioplastic is also able to be recycled and reused.
Aaron Nguyen says: "Having grown up with two relatives with Hereditary Spastic Paraplegia, I wasn't aware of the problems that children and their families can face with traditional orthoses until my aunty asked me to find a better solution. The LUNA Modular AFO consists two components and as the child grows, the LUNA Surface can be interchanged and form-fitted using 3Dscanning. The digitisation of this process removes flaws and results in more consistently accurate orthoses."
Commenting on the sustainability of his invention, Aaron says: "Personally, I think that engineers and designers should bear the burden of figuring out how to make everyday life more sustainable, and that the end user shouldn't have to compromise for a more sustainable option."
"I always saw the James Dyson Award as a competition for the best up-and-coming designers and engineers showing their solutions and skills, and I wanted to challenge myself by entering this year. I feel honoured to be recognised for my invention and to help solve this important problem for children."
The Runners Up
Runners up in this year's competition were Rinse Repeat, a compact home wastewater recycling system that halves water use in front loading washing machines and SASS: Stand Alone Sun-Flow System, a sustainable and stand-alone water treatment system.
Rinse Repeat
Problem: Water scarcity is a reality, especially in regional parts of Australia, and current home wastewater recycling systems can be inaccessible to householders due to their size, complexity and cost. These systems don't distinguish between wastewater sources, thus, a multi-process 'blanket' approach to wastewater treatment must be used, and to install them, severe alterations to household plumbing are required.
Solution: Rinse Repeat challenges this by framing wastewater recycling in the context of a simple home appliance. By targeting the cleanest half of one specific wastewater from the washing machine, Rinse Repeat can achieve efficient treatment with minimal processes, whilst remaining highly compact. Additionally, it can be installed quickly, and without the need to alter existing plumbing.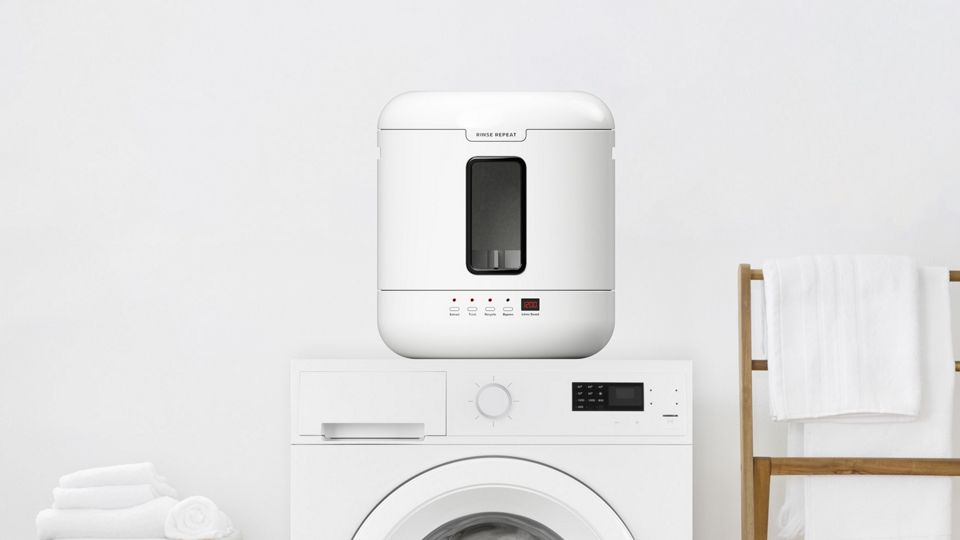 SASS: Stand Alone Sun Flow System
Problem: According to the United Nations, by 2025, more than 300 zones around the world, including many in low resource areas, will have water conflicts. There is a lack of sustainable and economical methods to treat persistent organic pollutants. The available processes in the market are either not efficient enough, or produce a secondary pollutant.
Solution: SASS is a sustainable and stand-alone water treatment system, requiring only sunlight to operate, that can be used for the removal of persistent organic pollutants (POPs) from water resources. It is developed to be a low cost, sustainable and user-friendly solution to treat polluted water.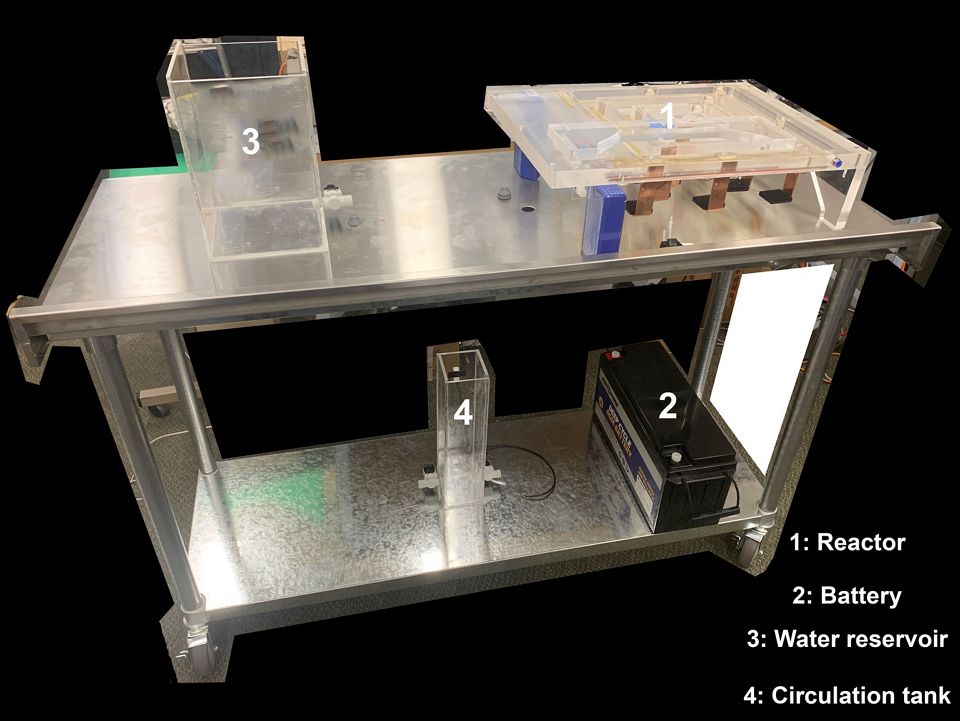 The Judging Panel
This year, the three Australian judges included Olympian and Engineering Executive Jane Waldburger, multi-award-winning STEM Journalist Rae Johnston, and Founder of Reef Design Lab and 2014 James Dyson Award Australian National Winner, Alex Goad. The trio gathered virtually from across the country to review the entries submitted from university students and graduates across the country, before selecting the Australian Winner and two Runners Up.
As national winner of the James Dyson Award, Aaron Nguyen will receive AU$3,500 to go towards his project. All three finalists will move on to the international stage where a Top 20 will be selected by a panel of Dyson Engineers. The Top 20 will be announced on Wednesday 13 October and the International Winners unveiled on Wednesday 17 November 2021.
About the James Dyson Award
The competition is open to student and graduate (within four years) inventors with the ability and ambition to solve the problems of tomorrow. With students from 27 markets and regions now competing, the award is set to welcome new approaches to a broader range of global issues than ever before.
The James Dyson Award forms part of a wider commitment by Sir James Dyson, to demonstrate the power of engineers to change the world. The Dyson Institute of Engineering and Technology, the James Dyson Foundation and James Dyson Award embody a vision to empower aspiring engineers, encouraging them to apply their theoretical knowledge and discover new ways to improve lives through technology and design engineering.
[1] https://hspersunite.org.au/about-hsp/what-is-hsp/