Pioneering trio secure Australia's James Dyson Award with uplifting mobility solution
Inspired by a camping bed, the 'AirLift' device allows at-home healthcare workers to independently reposition patients without strain.
7 September 2022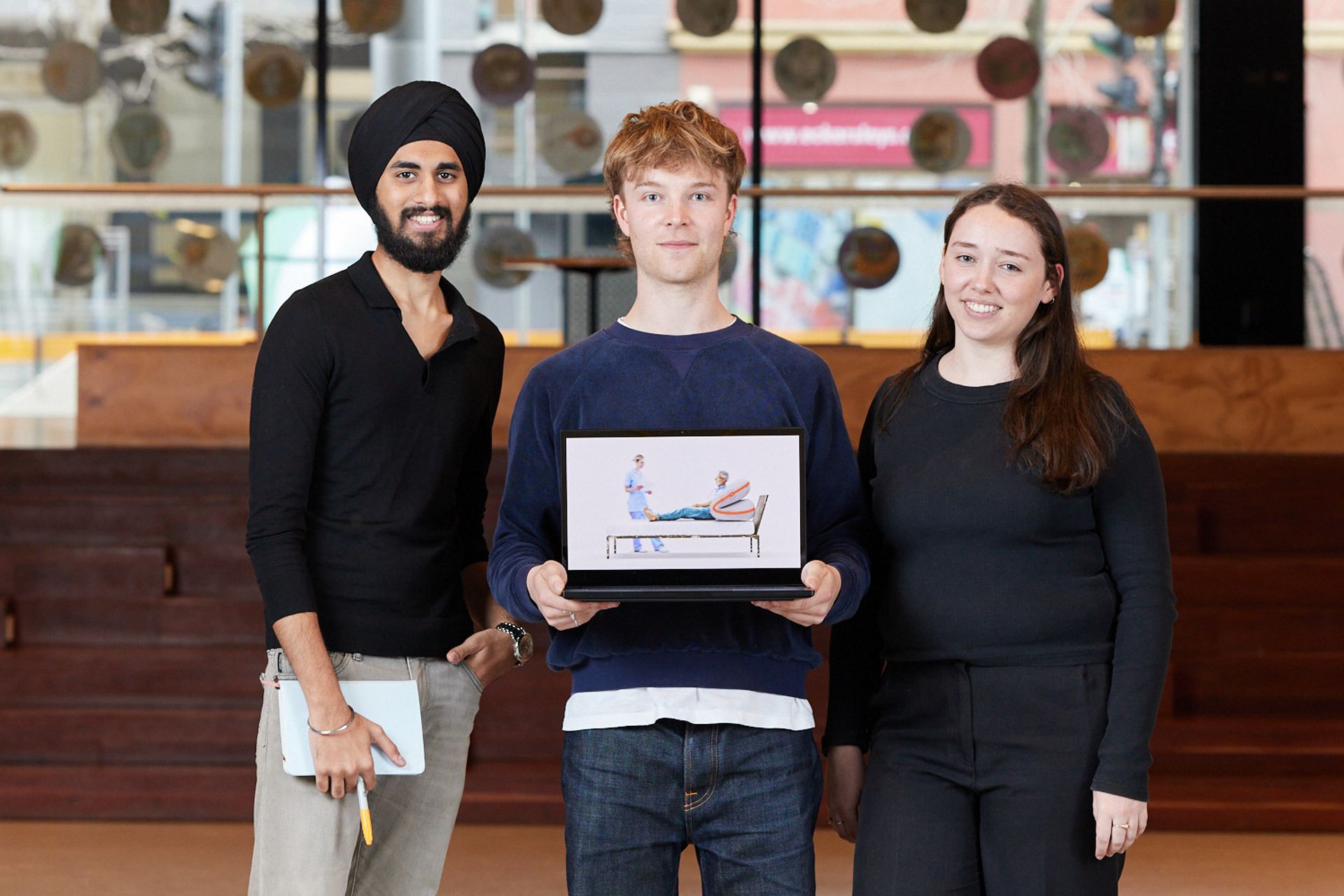 This year's James Dyson Award National Winners are RMIT University students Fergus Davidson, Maireid Carrigg and Maneet Singh, designers of the Airlift , a pneumatic patient transfer device which assists at-home healthcare workers.
The trio found that at-home healthcare workers were often left to independently reposition patients, subjecting carer's bodies to high levels of strain. While there are other products on the market that look to address this, they are often expensive and bulky, or require multiple healthcare workers to utilise the product.
Fergus Davidson, co-inventor of AirLift, National James Dyson Award Winner 2022 commented:"A spike in demand for at-home care, alongside an under-resourced and rapidly ageing workforce is making community healthcare work increasingly dangerous. The design came to us during a camping trip when inflating a dry bag. Realising the potential, we modified an inflatable lounge so that it could comfortably reposition a human, which served as our initial proof of concept."
The Invention
The AirLift device provides a safe and inexpensive way for individual healthcare workers to reposition patients. Once tucked under the patient, AirLift can be inflated using a remote-control pump, which fills the inner bladder with air and lifts the patient off the bed.
Placing a layer of air between the patient and the bed reduces the force required for repositions, minimising the risk of injury to the healthcare worker from strain. AirLift can switch between three key patient movements- sit up, roll over and translate- which can be controlled using the remote control. A removable cover can be replaced to meet hygiene requirements.
As winners of the national James Dyson Award, the AirLift inventors secure AU$9,000 in funding to take the idea to the next stage of its development. The team plan to manufacture a functional prototype, as well as assessing and improving the sustainability of the design.
Fergus Davidson said: "We see the James Dyson Award as a huge opportunity for emerging designers and engineers. It gives the next generation a platform to showcase our enterprise and creativity. We are honoured to be recognised in this year's awards."
The Judges
The national winners were chosen by an external panel in collaboration with a Dyson engineer. The judges gathered to review the entries submitted from university students and graduates across the country, before selecting the Australian winner and two runners up.
Becki Penfold, Design Manager- Hair Care and National James Dyson Award 2022 judge commented: "The James Dyson Award aims to ignite young people's interest in design and engineering, challenging them to not only think about solutions to real and relevant problems but to pursue them. Every year we receive incredible and creative entries that have the potential to solve national and local issues. This year's Australian entries were no different. AirLift is a creative solution to a problem of increasing importance, and I look forward to seeing how the product develops."
This year, entries in Australia were also judged by:
Councillor HY William Chan, Young Australian Designer of the Year 2021- Good Design Awards, Forbes 30 Under 30 Architect and Urban Innovator and Councillor at the City of Sydney
Lachlan Bradford and Robbie Hicks, Funny Business podcast hosts
Ryan Tilley, 2019 James Dyson Award Australian National Winner and Founder of Gecko Traxx
Councillor HY William Chan, 2021 Young Australian Designer of the Year, commented: "It's inspiring to see fellow young Australian designers and engineers shaping meaningful solutions to act on their vision for a better world. The winners of this year's James Dyson Awards have showcased the power of empathetic and dignified design in responding to the needs of key workers in our local community, particularly in health and aged care."
Lachlan Bradford, Funny Business Podcast Co-Host said: "It was fantastic to be a part of the Australian judging panel for this year's James Dyson Award. We launched Funny Business to highlight the free-thinkers and creative talent both nationally and abroad, and the James Dyson Award is another great way to showcase the high calibre of Aussie talent."
Ryan Tilley, 2019 James Dyson Award Australian National Winner and Gecko Traxx Founder added: "Being a part of the judging panel was truly rewarding. The AirLift is a very impressive entry, and I can't wait to see where the team ends up."
The Runners Up
Runners up in this year's competition were Wound, a non-invasive Vagus Nerve Stimulation device that helps stop internal bleeding and Frankie Chair, a functional mobility chair.
Frankie Chair: A functional mobility chair- Invented by Carla Pelligra, Swinburne University of Technology
Problem: The current mobility aid market is saturated with unaesthetic products that do not address key user needs. The Frankie Chair innovates in this area and solves a range of mobility challenges with one elegant and functional solution.

Solution: The Frankie Chair aids with key mobility challenges that a number of Australians suffer from. The chair includes a pressure sensor which can alert the carer if the individual has left the chair, helping to monitor wandering in those who have dementia. Additionally, the chair incorporates a tilt mechanism, allowing the base to tilt to a 20-degree incline to help users go from sitting to standing. Incredibly functional, the Frankie Chair can adjust to the needs of the user (e.g. lengthening or shortening the legs).
Wound: Invented by Kathy Ky, University of New South Wales
Problem:Blood is the body's life support, however, uncontrollable bleeding from traumatic injury remains the leading cause of preventable deaths worldwide. There is an unmet need for a lesser invasive solution that can effectively stop bleeding from multiple locations with a single application.

Solution: Wound is designed for emergency trauma, to help rapidly stop uncontrollable bleeding until the patient arrives at the hospital. Through electrical nerve stimulation, the device sends a signal to the Vagus Nerve between 1-5 times per second. Upon stimulation, the spleen will rapidly increase the production of blood clotting factors at the site of injury, forming a natural 'plug' that stops bleeding in under a minute.
The Judging Panel
As national winner of the James Dyson Award, Fergus, Maireid and Maneet will receive AU$9,000 to go towards their project. All three finalists will move on to the international stage where a Top 20 will be selected by a panel of Dyson Engineers. The International Winner and Sustainability Winner will be handpicked by Sir James Dyson, with the International Winner receiving AU$55,000 and AU$9,000 for their university, and the Sustainability Winner receiving AU$55,000, and announced on 16 November 2022.
About the James Dyson Award
The competition is open to student and graduate (within four years) inventors with the ability and ambition to solve the problems of tomorrow. With students from 27 markets and regions now competing, the award is set to welcome new approaches to a broader range of global issues than ever before.
The James Dyson Award forms part of a wider commitment by Sir James Dyson, to demonstrate the power of engineers to change the world. The Dyson Institute of Engineering and Technology, the James Dyson Foundation and James Dyson Award embody a vision to empower aspiring engineers, encouraging them to apply their theoretical knowledge and discover new ways to improve lives through technology and design engineering.