Project Flock lights the way for cyclist safety
RMIT student crowned James Dyson Award National Winner
17 September 2020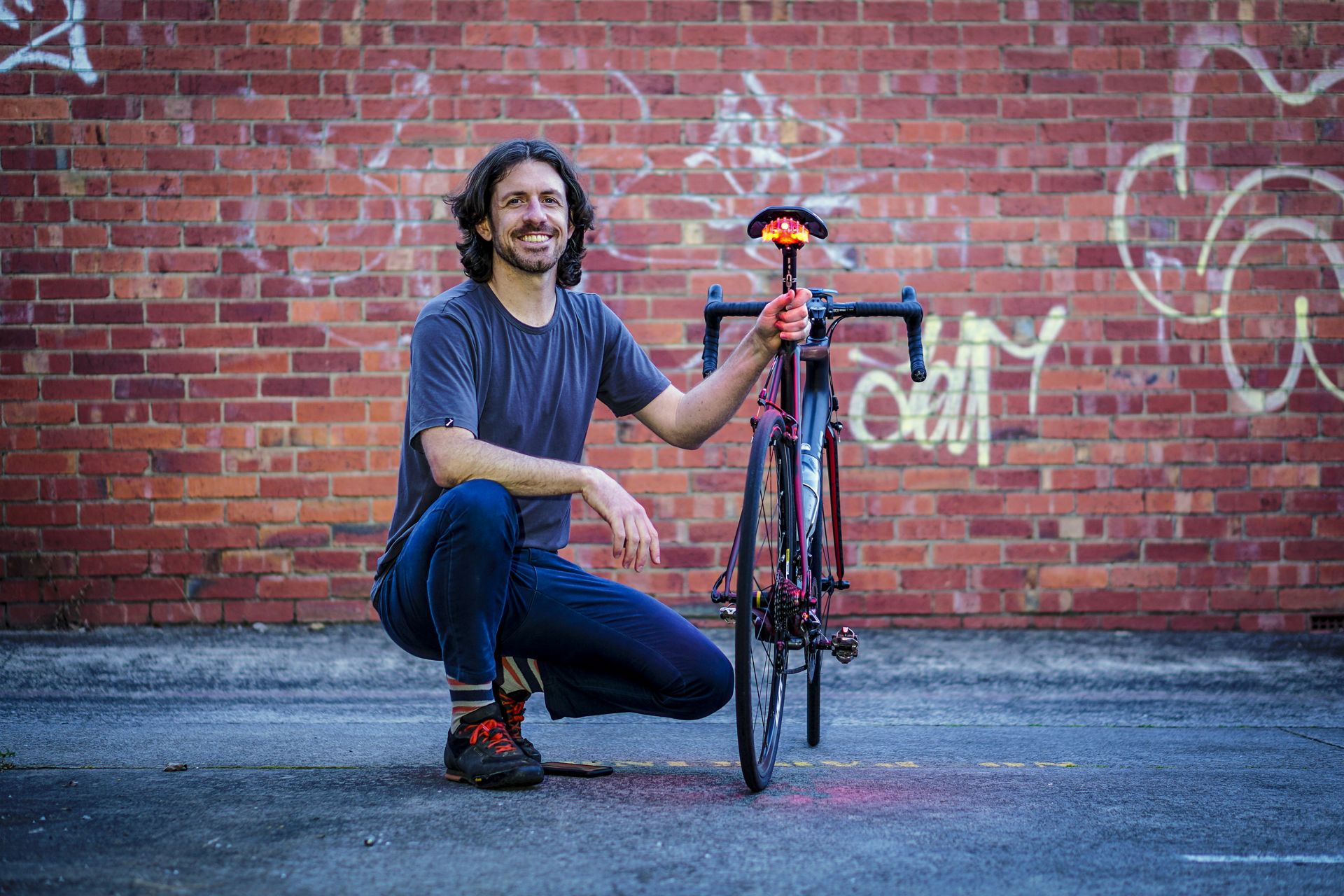 Addressing the global issue of road cyclist safety, this year's Australian national winner of the James Dyson Award is Project Flock. Designed by RMIT student, Tim Ottaway, the Project Flock bike light uses 'biomotion' technology to illuminate the human form in motion, helping cyclists become more recognisable on the road.

Cycling is one of the most common forms of physical activity in Australia, with around 3.43 million Australians riding a bike for transportation or recreation in a typical week.1 The number of cyclist deaths on Australian roads has doubled over the last three years.2 One of the most common causes of fatal cycling crashes involves a rear collision from a motor vehicle.3

The Project Flock bike light consists of a range of compact, high powered LEDs that project onto the rider's moving legs (biomotion lighting) and the ground, as well as a rear-facing element. Research has proven that highlighting 'biomotion' is far more effective in making cyclists noticeable to other road users, by increasing their conspicuity.4

"Safety is one of the biggest barriers for many people wanting to ride bikes and if we want to move towards more sustainable modes of transportation, the issue of safety needs to be meaningfully addressed. The significant increase in Australians taking up cycling during the COVID-19 pandemic5 has been a big motivating factor in me redoubling my efforts to get the Project Flock bike light in the hands of cyclists around Australia. Project Flock became a start-up in May earlier this year, and we are hoping to launch on a crowdfunding platform soon," says Project Flock Designer, Tim Ottaway.

"The Flock bike light can't solve all issues associated with cycling safety however, it is a starting point. The bigger picture is about helping to educate and change infrastructure to make roads and paths a safer and more positive place for all users, particularly those who are more vulnerable including cyclists and pedestrians," continues Tim.
The Invention
Conventional bicycle lighting systems focus on improving the visibility of the bicycle light itself, and with technology improvements these lights are becoming overly powerful to the point of having an adverse effect, by startling or blinding other road users. By projecting light onto the cyclist, the Project Flock bike light illuminates the human form in motion, which is more recognisable to our brains than a flashing light.
6
Not only is this easily identifiable, but we are able to distinguish the shape far sooner.
In addition, by using smart sensors inside the Project Flock Light, an 'Adaptive Lighting Engine' automatically adjusts lighting output to be as noticeable as possible, whether on a shared path or a busy road. The Project Flock Light effortlessly changes and reacts to its environment, so the rider is highly noticeable without startling or blinding other road users in the process. The Project Flock bike light is also designed to be easily taken on and off any bike and re-charged.