What is a HEPA filter?
While awareness of HEPA filtration continues to rise in a post-pandemic world, what it is and how it functions still causes confusion for many. HEPA filters for the home benefit the health of inhabitants in a multitude of ways, ranging across different household types and needs.
Dyson's HEPA H13 filter technology exists in both our vacuum cleaners and air purifiers. To understand how HEPA filter's can improve the air quality of your home, it's helpful to understand how it works and what it captures. Ahead, Lead Engineer Ben Lowson helps to break down how this high standard filtration works alongside how a HEPA filter benefits health.
25 March 2022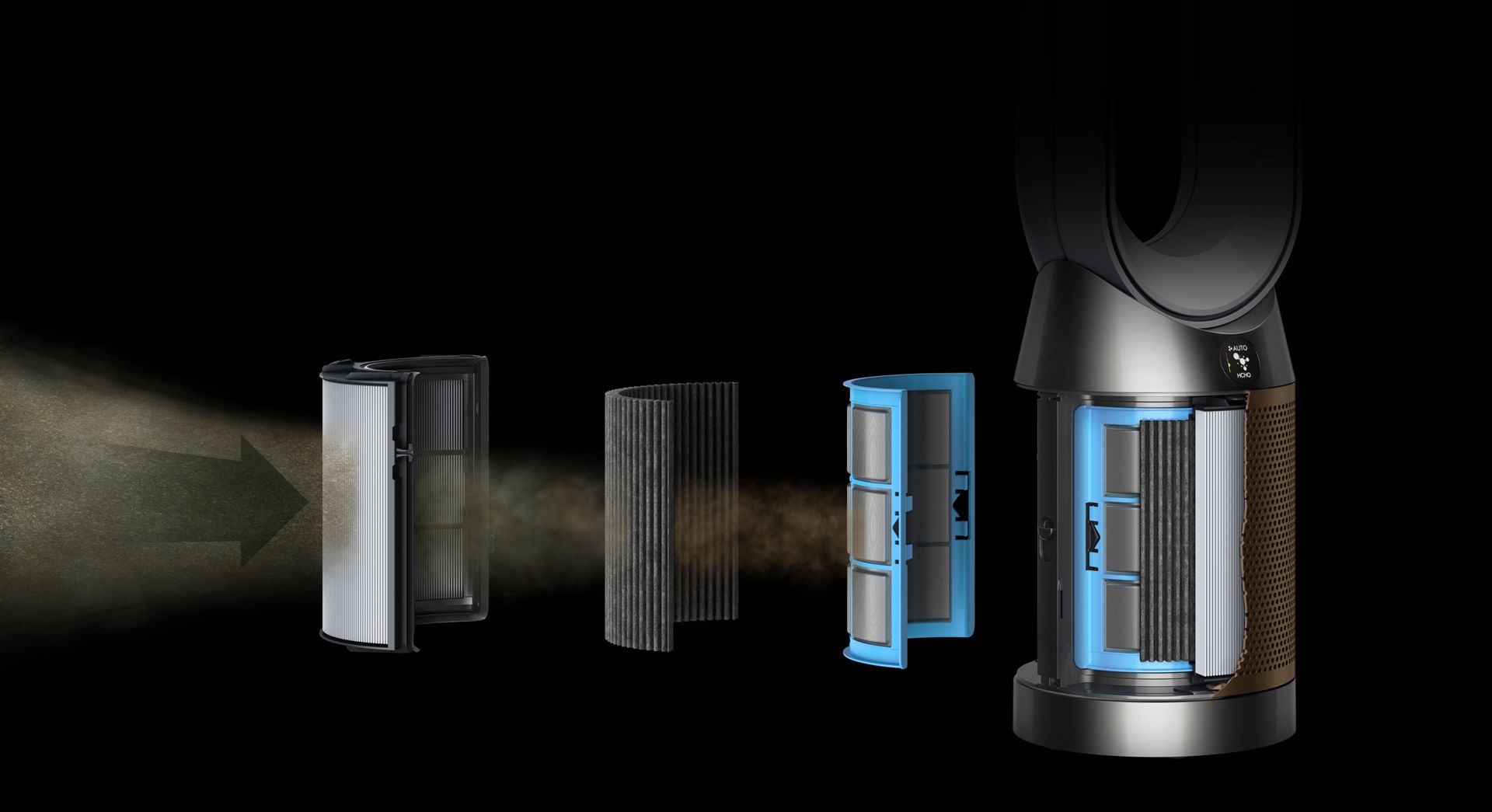 What does HEPA stand for?
Meaning 'High Efficiency Particulate Air', HEPA is a standard of filter efficiency. When a filter's performance is defined as HEPA, it means that it can capture up to 99.97% of particles down to 0.3 microns (about one-millionth of a metre). There are some discrepancies in measurement – ISO, a separate organisation defines HEPA filtration as being able to remove 99.95% of MPPS particles (the most difficult to capture). Dyson's HEPA H13 air purifiers1 and Dyson V15 Detect™ Absolute Extra2 vacuum passes both of these tests.
As Lead Engineer Ben Lowson explains, particle pollutants range from "dust mites and allergens to pollen and bacteria. Particulate matter is a term used for a mixture of solid particles and liquid droplets found in the air". Whilst particulates like dust can be seen with the naked eye, many of the harmful pollutants are too tiny for detection, which makes removing them from the home particularly challenging. A HEPA filter air purifier is able to capture and destroy it.
How does a HEPA filter work?




Usually made from glass-fibre or PTFE materials, a HEPA air filter resembles randomly arranged strands. As particles range in size and texture, they require different trapping methods to be effectively removed. To answer the question 'what does a HEPA filter do?', see how it traps different types of particle pollutants:

Larger particles: are trapped by and stick to the net-like structure of filter fibres.
Smaller particles: follow airflow and are intercepted by the filter.
Smooth particles: diffused air forces smooth particles to move erratically, causing them to collide with filter fibres and become stuck.
What are HEPA filter grades?
The best HEPA filter grades are awarded to filters that have a higher particle capture efficiency. To do the most in a home environment, a HEPA filter air purifier needs to balance how well it can filter particles with how quickly it works.
Filters with higher grades can impact the purifier's ability to project airflow by increasing the resistance of air passing through the machine. To avoid this, Dyson's air purifiers have achieved H13 grade according to the ISO standard – which provides an ideal balance between removing harmful particles whilst maintaining powerful air projection across the entire room3
Whole-machine filtration at Dyson
Unless engineered correctly, even HEPA standard filtration can fail to completely capture harmful pollutants. As Lowson shares, "while a filter might achieve HEPA certification in a filter-specific test, without being properly sealed into the machine, dirty air may bypass the filter and be expelled back into the room". To solve this, the entire machine in Dyson's range of air purifiers meets HEPA H13 standards1, whilst the design helps to block potential leaks. To do more than conventional purifiers can, other forms of filtration also employed in our technology are below.
Activated carbon filter
Particles aren't the only pollutants that affect the air and health quality of the home. While viruses and bacteria are certainly some of the most concerning pollutants, gas pollutants can also pose risk to our health. VOCs (Volatile Organic Compounds) and N02 exist in cleaning products and occur when cooking. An activated carbon filter included in our air purifiers effectively absorbs gas pollutants from the air
3
.
Shop Dyson's HEPA H13 air purifiers
Automatically purifies the whole room1

Sealed to HEPA H13 standard – what goes inside, stays inside.4

Removes 99.95%3 of ultrafine particles for a cleaner, healthier home.

Diffused mode purifies you without the effect of cooling.
Installment options with
&
New
HEPA H13 purifier, fan and heater.

Detects and destroys formaldehyde¹.
Captures gases, pollutants and allergens.

Automatically senses and displays real time air quality.

Connects to the Dyson Link app. For larger spaces.

Installment options with
&
Formaldehyde





A gas-phase substance, formaldehyde is an exceptionally small particle that can evade conventional air filter standards. Found throughout the home, including in paint materials, wood, furniture and carpets, it reduces air quality and can continuously reoccur. Alongside a HEPA H13 standard filter and carbon filter, Dyson Purifier Hot+Cool™ Formaldehyde contains an SCO (Selective Catalytic Oxidisation) filter, which destroys formaldehyde4 and converts it into water and Co2.
1Particle challenge by DEHS oil specified in EN1822 within a chamber specified in ASTM F3150. Tested in Max Mode at IBR US, for whole machine efficiency above 99.95%.
2In maximum setting. Tested for air projection, purification coverage in a 81m3 room and heating performance in a 35m3 room.
3Gas capture rates vary.
4Third party full machine testing based on GB/T 18801-2015 formaldehyde cumulative clean mass testing with continuous injection until plateau of formaldehyde CADR is achieved. Results may vary in practice.