Automatically purifies and heats a whole room, capturing 99.95% of fine particles such as harmful pollutants1

Heats, cools and purifies
To simultaneously purify and heat a whole room properly, the Dyson Pure Hot+Cool™ purifier fan heater goes beyond standard tests. Using Air Multiplier™ technology, it automatically senses pollution, captures 99.95% of ultrafine pollutants, and projects purified and heated air throughout your whole room. It is the only purifying heater designed and tested to do this.1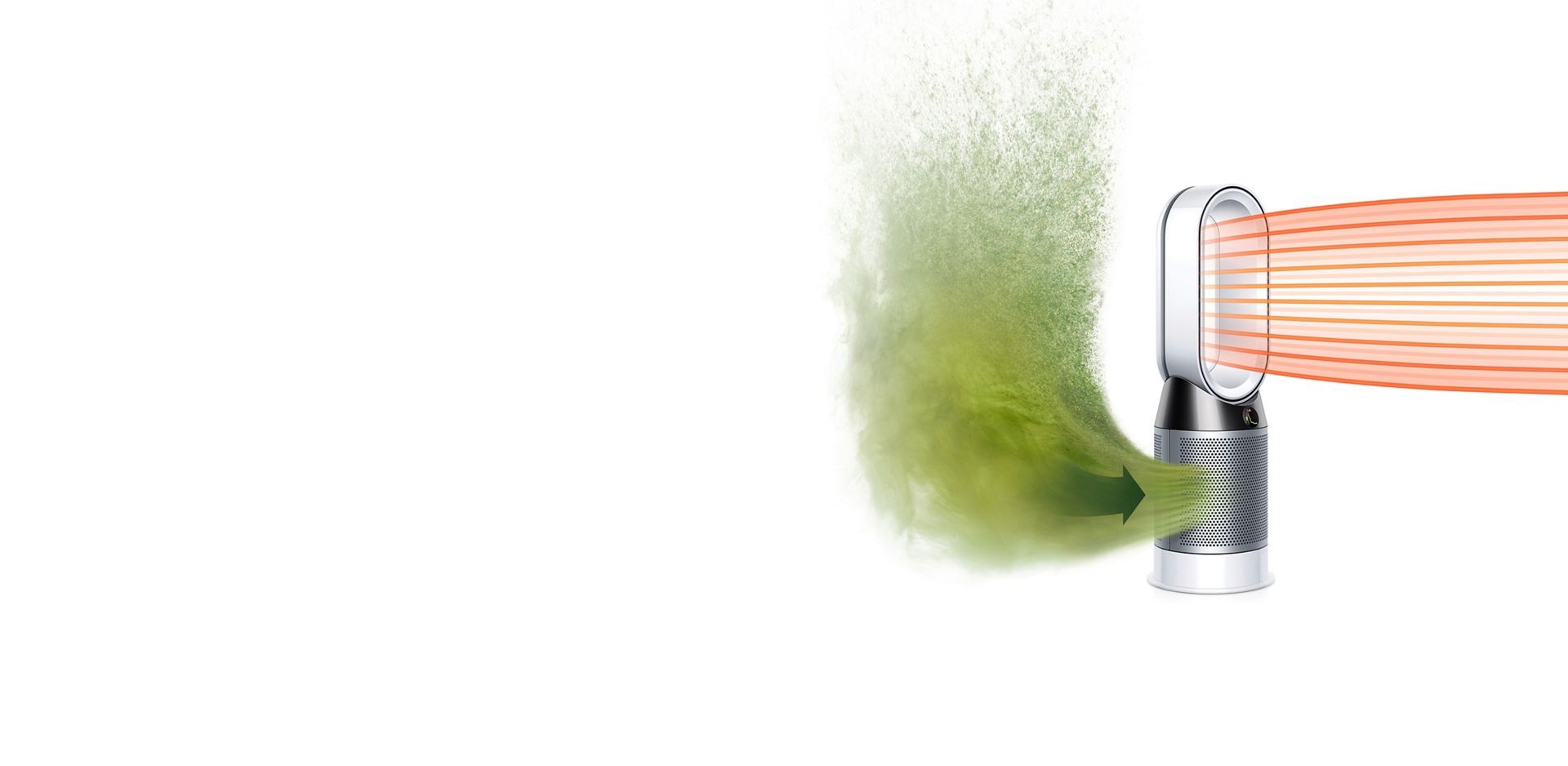 Pollutants can build up inside your home. But you can't always see them.
In fact, indoor air quality can be up to 5x worse than outdoor air quality 2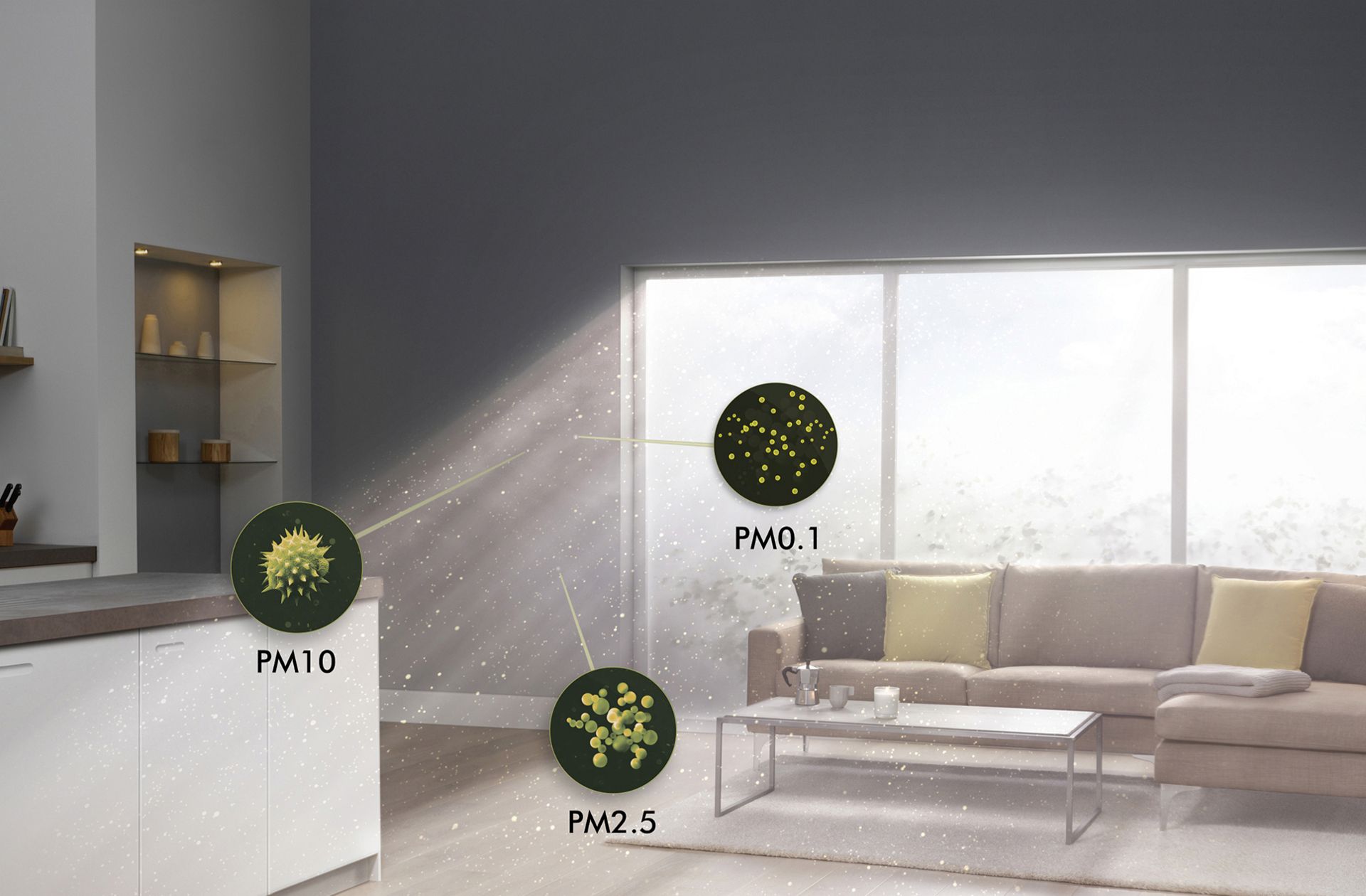 Discover what's inside your home
Potentially harmful particles and gases can be found throughout the home. These include:
Ultrafine particles and viruses

PM0.1

Industrial emissions

PM2.5

Bacteria and mould

PM5.0

Pollen and allergens from plants and flowers

PM10

Carpets, rugs and flooring

Formaldehyde

Household fumes and indoor cooking

Odours

Cleaning products and scented candles

Benzene and VOCs

Gas stoves and car exhausts

Nitrogen dioxide
Automatically senses and reports particles and gases, in real time
With three intelligent sensors, the Dyson purifier fan heater automatically detects airborne particles and gases.3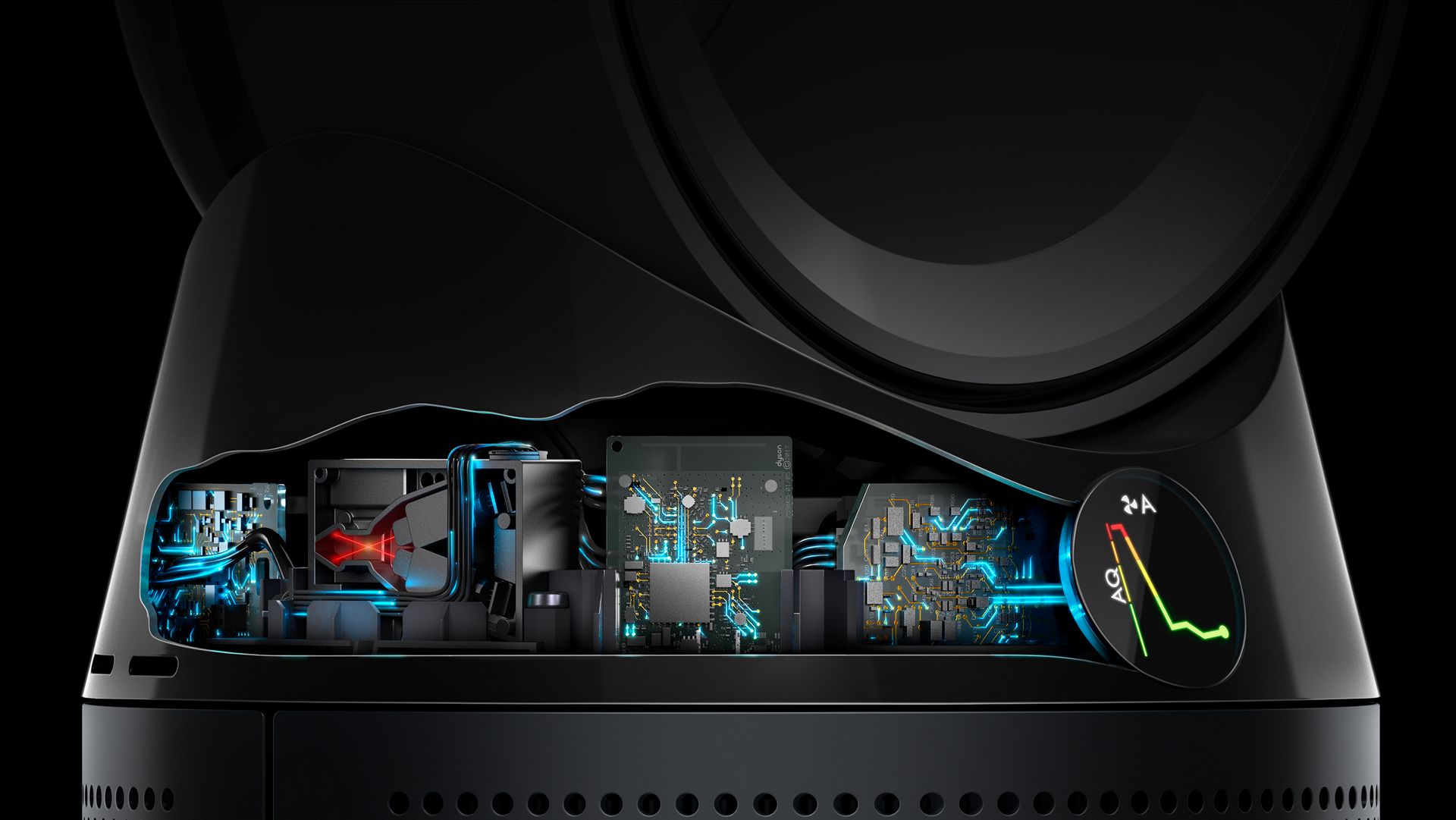 HEPA filter features
Captures pollutants you can't see

The 360° fully-sealed filtration system combines an activated carbon filter and a glass HEPA filter. They work together to lock in gases and pollutants, preventing dirty air from leaking back into the room.

Glass HEPA filter

9 metres of borosilicate microfibres, pleated over 200 times, capture 99.95% of allergens and pollutants as small as 0.1 microns4

Activated carbon filter

Engineered using a dense layer of carbon granules, and treated with oxygen to make it more porous. This increases the carbon's surface area, further helping to trap gases – such as formaldehyde, benzene and NO₂.
Control your home environment, direct from your device5
The machine's built-in LCD screen shows you the room temperature, and which particles and gases it has detected.
PM10 Levels

PM2.5

Nitrogen Dioxide (NO2)
Volatile organic compounds

Temperature

Filter life
Personalised oscillation control

Use the app to set your purifier's oscillation angle – from targeted airflow, to wide, even distribution throughout the room.

Select your target temperature

Take control of your room temperature. Choose your desired wake-up temperature, or heat the room before you arrive home from work.
Complete control, wherever you are

Set your airflow mode, oscillation angle, and target temperature – whether you're travelling, at work, or simply on the sofa.

Filter life checks, at your fingertips

With separate monitoring on both the 360° HEPA filter and activated carbon filter, your app will let you know when your filters need replacing. So you can always make sure your purifier is working at its best.
Complete Control in your hands with the Dyson App5
View temperature and air quality reports, fast

The Dyson Link app allows you to monitor the air quality in your home, and outdoors. Quickly check your machine's activity, past and present, as well as reports on temperature, humidiity, and filter life.

Set it and forget it. With 7-day scheduling

Make sure your purifying fan heater stays on when you need it, and off when you don't. You can also schedule Auto or Night-time modes, to purify and maintain your target temperature automatically.
Technology
Fast, safe efficient heating

Self-regulating ceramic plates are positioned at the front of the amp, to heat the air as it leaves the machine. As the plates heat up, they conduct less electricity to help ensure they don't overheat.

Thermostat control

Once your target temperature is reached, the machine automatically stops heating, which saves energy. If the temperature starts to drop, it reactivates to maintain it.

Powerful Air Multiplier™ technology

Air Multiplier™ technology delivers over 290 litres of smooth, powerful airflow per second – circulating purified air throughout the whole room.6
Two airflow modes

The machine has two separate apertures, to release air from either the front or back. The valve mechanism turns a rotational baffle around the arc of the amplifier, to switch the direction of the airflow.

Forward projection

Delivers a powerful stream of cooling, purified air from the front of the machine.

Diffused projection

The machine diverts air through the rear annular at a 45° angle, creating a more diffused airflow.
Heats and purifies the whole room
When purifiers and heaters don't distribute air through the room, areas can be left unheated and polluted.

Dyson purifier fan heaters mix and circulate the air, so they heat and purify the whole room evenly.6
Frequently asked questions
If you're concerned by the brightness of your purifying fan heater's LCD display, consider enabling Night-time mode using your remote control or the Dyson Link app. During operation, a small moon icon indicates that your purifier is on, but the main display turns off after 10 seconds to help avoid sleep disturbance.
Your purifying fan heater's auto mode is designed to manage the air quality in your home without you having to operate the machine - so it's only on when it needs to be. If you or someone in your home suffer from allergies or respiratory illnesses, we particularly recommend using your machine's auto mode.
Your purifying fan heater is engineered to purify single rooms, so you should use it where you spend the majority of your time at home. When placing the machine, make sure there is at least a few feet of clearance on all sides so that the air can circulate effectively.
1 Tested for filtration efficiency at 0.1 microns (EN1822), air projection (DTM801),purification coverage in a 81m3 room (TM-003711) and heating performance in a 35m3 room (DTM 961).
2 Supported by data from the Centre for Australian Weather and Climate Research, 2009.
3 PM2.5, PM10, VOC, NO2
4 Tested for filtration efficiency at 0.1 microns (EN1822).
5 Requires device to run app, Wi-Fi or mobile data, Bluetooth 4.0 support, and iOS version 10 or Android version 5.1 (or above). Standard data and messaging rates may apply.
6 In maximum setting. Tested for air projection (DTM 801), purification coverage in a 81m3 room (TM-003711) and heating performance in a 35m3 room (DTM 961).