Support for your Dyson Supersonic™ professional hair dryer
Dyson Supersonic™ professional hair dryer

This is the support page for stylists – if you're not a stylist, you can find your page here. Below you'll find useful tips, how-to videos, maintenance advice, your user manual and more.
Activate your guarantee
You can get support that's tailored to you, owner exclusives and more when you register your hair dryer.
Using your hair dryer
Learn about your hair dryer's key features in our video guide, introduced by Jen Atkin.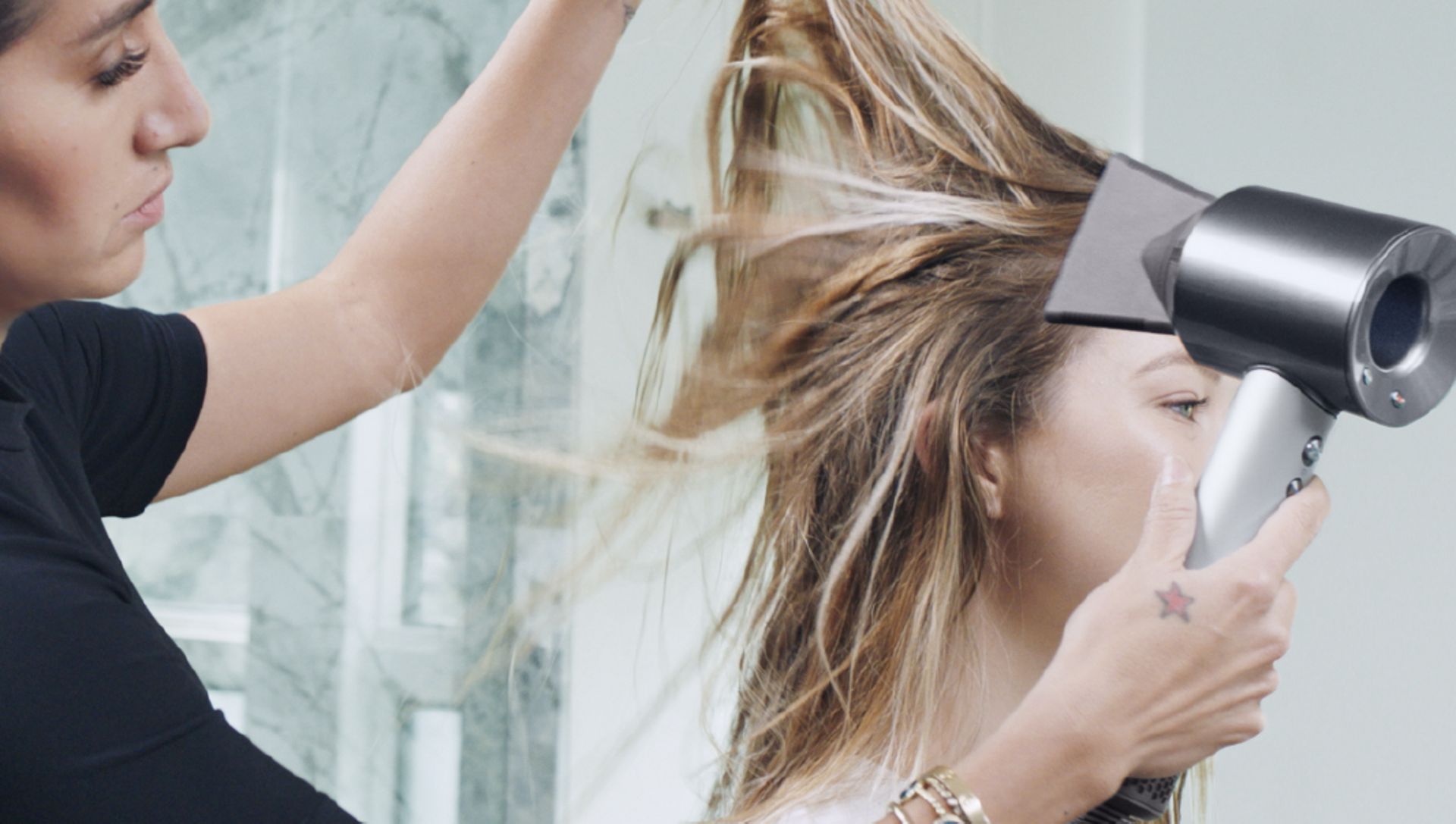 A quick guide to your styling attachments
See our video guide on how to use your Dyson-engineered styling attachments for the best results.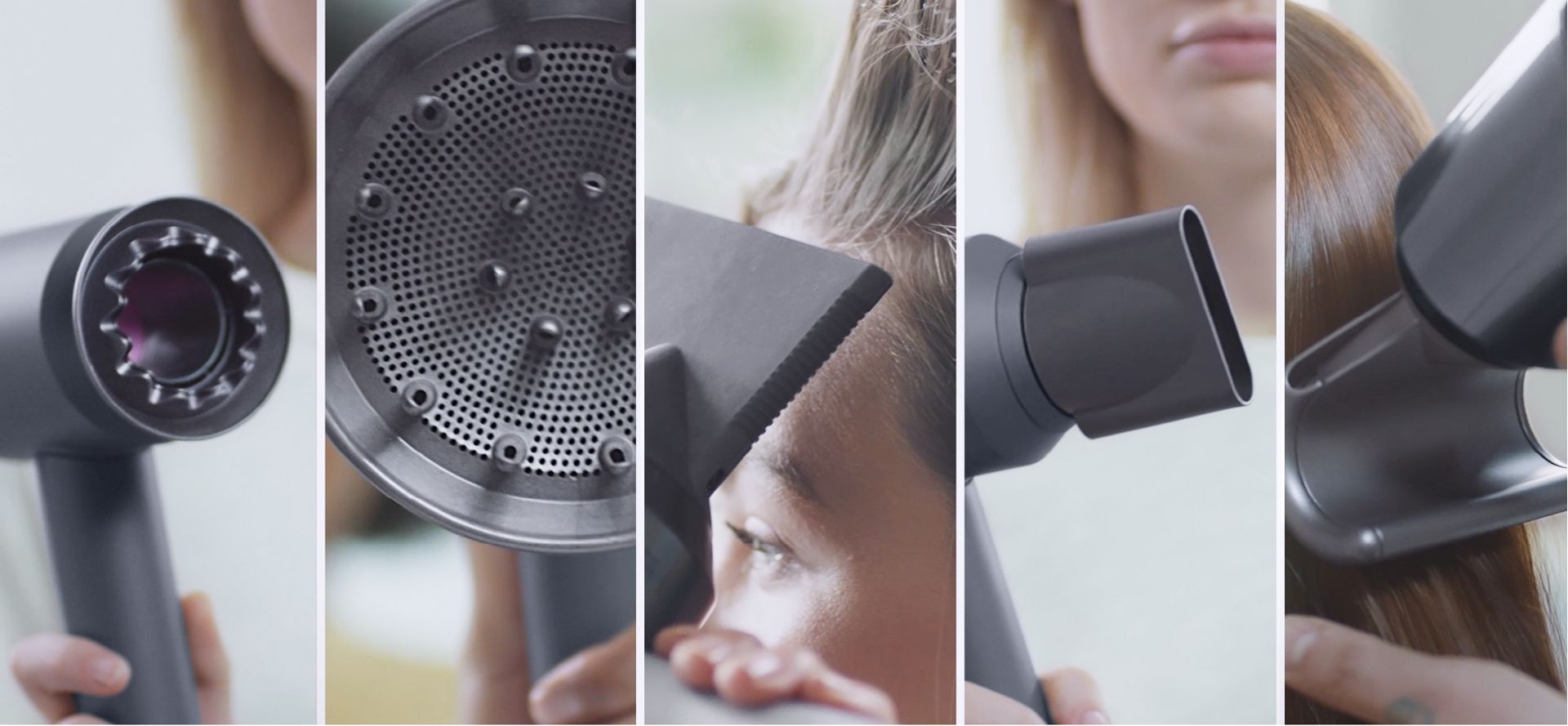 For quick changes and a secure fit. With 360° rotation and Dyson Heat Shield technology to keep their surfaces cool.
Flyaway attachment

Our latest attachment mechanises the traditional brush technique to hide flyaways, by using the Coanda effect to hide short flyaways under longer tresses. Use on dry and straight, or straightened, hair for a smooth, shiny finish1.

Professional concentrator

The wide, thin design of the Professional concentrator creates a high-velocity blade of air that's perfect for styling one section at a time – without disturbing the rest.

Diffuser

Reduces frizz and adds definition to curls and waves. Engineered to diffuse air more evenly, with longer prongs that reach deeper into the hair, so you can style more hair with greater control.

Wide-tooth comb attachment

Engineered to glide through curly and coily hair with no snagging. Adds volume and definition to tight curls, with robust teeth to help shape and lengthen hair as it dries.

Gentle air attachment

Fast, yet gentle styling for fine hair and sensitive scalps. Creates volume and texture closer to the roots using gentler, diffused airflow – while still drying fast.
Key controls
12 combinations to suit every client and style. High heat and speed settings dry hair fast, while the lower settings help hair retain a smooth, supple texture. Use the cold shot to set your client's hair after styling.
3 precise speed settings

High – fast drying and styling
Medium – regular drying
Low – diffusing

4 precise temperature settings

100°C fast drying and styling
80°C regular drying
60°C cooler drying and diffusing
28°C constant cold

Cold shot button

28°C cold shot, to set your client's hair after styling with a cold blast of air. If you find it easier, you can also use the cold shot by holding the Temperature control button.
"Join our global community of professional stylists by following @DysonHairPro on Instagram."

Follow @DysonHairPro
"For tips on using your hair dryer, and hair science facts for clients, visit our YouTube channel."

Visit our YouTube channel
The science behind styling
Damaged hair scatters light

Extreme temperatures can make small pores appear within the strands, which scatter light in all directions. This reduces reflected light, and decreases hair's natural shine.

Healthy hair reflects light

Dyson's Intelligent heat control constantly regulates temperature to help prevent extreme heat damage. Less damaged hair reflects more light in a single direction, so hair appears shiny.

High heat can fade colour

Whether your client's colour is natural or dyed, high heat can change the hair's proteins, causing colour to fade. The Gentle air attachment can help prevent this by maintaining a lower temperature.

Lower heat is kinder to sensitive scalps

Extreme heat can affect your client's scalp health. The Gentle air attachment is engineered to diffuse the airflow and lower the temperature by up to 20°C. So it's gentler on sensitive scalps.
Looking after your hair dryer
Maintaining your hair dryer
This filter information is for stylists who own the Dyson Supersonic™ hair dryer Professional with a two-part filter. If your hair dryer has a one-part filter, the filter cleaning process is different.

Why it's important to clean your filter regularly
This protects your hair dryer's internal components from styling products, clippings and dust, which can prevent your hair dryer from performing as it should. Clean the filter monthly, or when the white LED lights flash continuously.
How to clean your filter
Watch our how-to video above, or follow the step-by-step guide below. Your hair dryer comes with a spare filter for quick changes during styling.
Remove filter unit

Unplug your hair dryer from the mains electricity supply and allow it to cool down before cleaning your filter unit. Hold the handle of your machine and pull the filter unit downwards and onto the cable.

Wipe filter mesh

Gently pull open the filter unit and slide it off the cable. Wipe the filter mesh on your machine with a dry, lint-free cloth to remove any debris.

Soak filter unit

Leave the filter unit to soak in warm, soapy water for at least 30 minutes. We recommend using a clarifying shampoo or dish soap.

Remove inner filter

Remove the inner filter from the filter cage.

Rub gently, rinse, then dry

Using your fingertips, rub gently to thoroughly clean each part. Rinse both parts of the filter unit to remove any debris. Completely dry both parts of the filter unit with a dry, lint-free cloth.

Replace inner filter

Check that all debris has been removed before placing the inner filter into the filter cage.

Replace filter unit

Gently pull open the filter unit and slide it onto the cable. Slide the filter unit towards the handle and twist until it snaps into place.
Dyson hair care for salons and stylists

Hair care re-engineered for stylists. For fast, effective styling with no extreme heat.

Dyson Supersonic™ hair dryer accessories

Discover Dyson display stands, wall cradles, docks, cases, accessories, attachments, and more.
Frequently asked questions
The Dyson Supersonic™ professional hair dryer is designed specifically with salon environments in mind, with a filter engineered to meet the needs of a busy salon. It comes with a Professional styling concentrator, whereas the consumer model includes a standard Styling concentrator. The professional hair dryer also has a longer cable (3.3m) to allow freer movement around your clients.
In busy salon environments, contaminants such as hairspray and dust are drawn into the filter by the powerful Dyson digital motor V9. To protect the technology inside the Dyson Supersonic™ professional hair dryer, we've engineered a depth-loaded filtration system with a 2,600μm (micron) woven mesh. During development, we tested eight different salon environments around the world, and engineered our filter to be able to cope in all situations.
To maintain performance, it's necessary to clean the filter regularly. We recommend cleaning monthly, or when the white LED lights flash. You can clean your filter using the how-to video or step-by-step guide on this page. If the three red LED lights remain illuminated after cleaning, turn off the hair dryer and contact a Dyson Expert.
Yes, the new and re-engineered attachments are fully compatible with older generations of Dyson Supersonic™ professional hair dryers.
The Flyaway attachment should be used only on dry and straight hair, or hair that's been straightened.
Hold the attachment at the top of the head until your client's hair is attracted to it. Then slowly run it along the length of their hair without pressing down on it.
The attachment can get hot if you've been using it for a while. We recommend holding the cool edges when twisting or removing it.
We recommend the high speed setting. Adjust the temperature to suit your client's hair type: lower temperatures for finer hair, and higher heat for thicker hair types.
If the white LED lights flash continuously, your filter needs cleaning. You can clean your filter using the instructions in the how-to video or step-by-step guide above. If the three red lights remain illuminated after cleaning, turn off your hair dryer and contact a Dyson Expert.
The Dyson guarantee
'How to' videos

To help you get the most from your machine. Quick and easy.

Helpful tips

Tailored reminders that will keep your machine working at its best, for longer.

Exclusive owner benefits

Priority access to previews of new Dyson technology, events and offers.

Expert advice. 6 days a week.

Freephone and live chat. Available Monday to Friday from 8am to 6pm and Saturday from 8am to 5pm AEST.

Free Dyson parts and labour

Replacement parts or repairs if something goes wrong during your guarantee period.

Hassle-free replacement

If we can't repair your machine, we'll replace it while it's under guarantee. Fast.
We don't stop caring about our machines once they're yours. Activating your guarantee allows us to give you a tailored, complementary, direct service for your machine. Even after your guarantee has ended, we'll still be on hand to help.
1For use on dry and straight[ened] hair.