Dyson Vacuums for Pet Hair Removal
Through advanced Dyson technology, our vacuums for pet owners provide precise allergen and pet hair removal. Discover how our combination of specialised pet tools and the powerful Dyson suction easily remove shedding, dirt and debris from your home.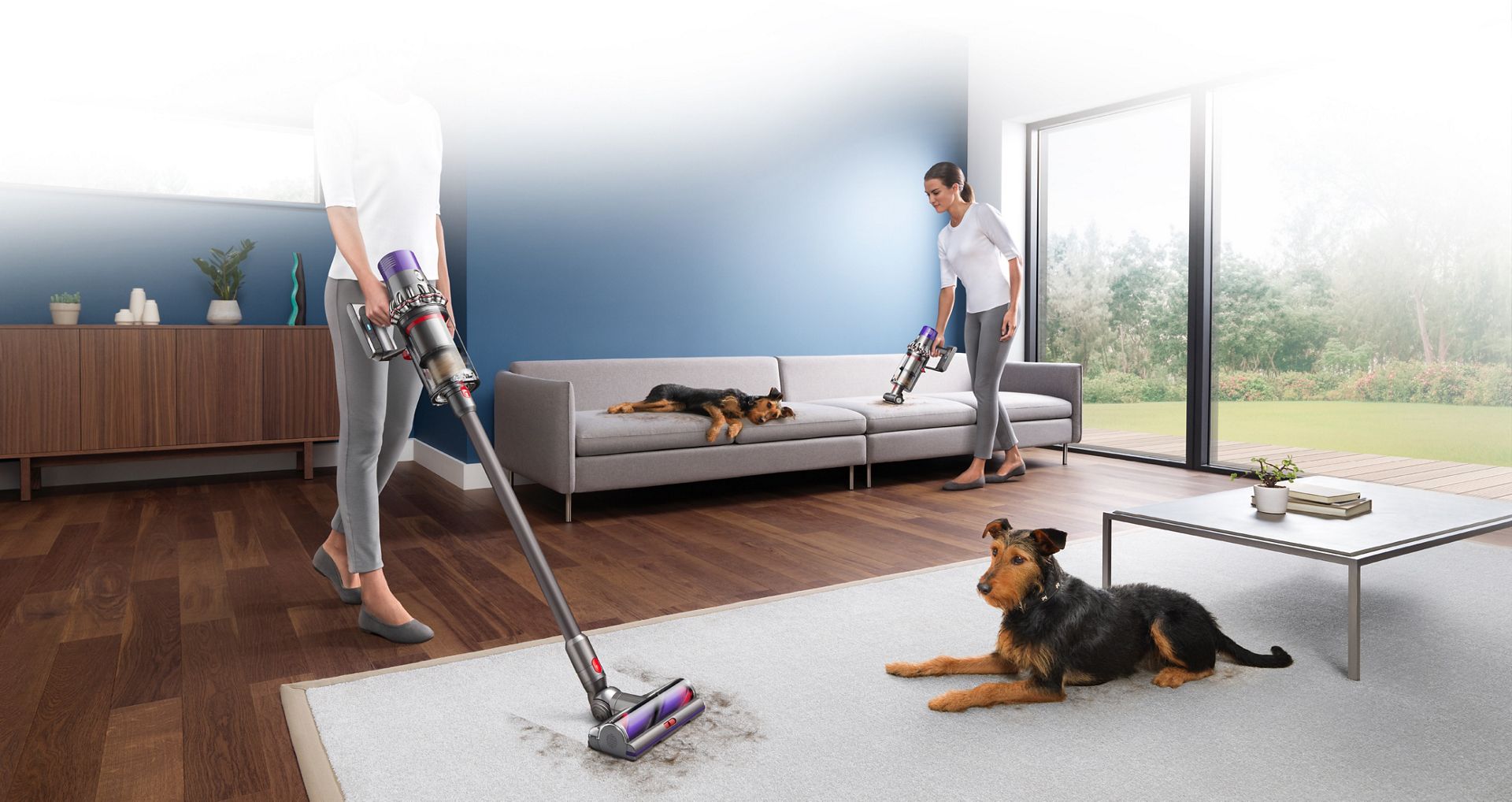 Powerful features for pet owners
For pet owners, finding the right vacuum cleaner for carpet requires a unique set of features. Paw prints, hair and dead skin deposit mess and bacteria across upholstery, floors and beds. Alongside this, pet allergens can cause discomfort for family and visitors, and reduce the air quality of the home.
The suction on a Dyson is best for vacuuming pet hair as well as dirt and debris brought in from outdoors. Wherever your pet goes, you have the power to deep clean.
Visible pet hair removal

The illumination technology in our Dyson V12 Detect Slim™, Dyson V15 Detect™ and Dyson Gen5detect™ reveals microscopic dust1, dirt and pet hair that you can't see on hard floors. When trying to remove pet hair, these vacuums detect both short and long pet hair, and ensure a whole-home deep clean every time. Illumination technology makes this tool the best vacuum cleaner for dog hair and cat hair in hard to see areas.

Remove pet hair

Pet hair makes it to all corners of the house, staying hidden and becoming embedded in your furniture fabric and carpets. The powerful suction and specialised tools of Dyson technology ensures the effective removal of pet hair from upholstery, beds and carpets.

Capture pet allergens

A major component of our advanced vacuums is the highly-efficient filtration system. Fully sealed, it traps microscopic particles including pet allergens and pet dander – this function creates the ideal vacuum for allergy symptoms.
Cordless pet vacuums
Our cordless stick vacuums allow pet owners to go everywhere your pet has, for proper and simple pet hair removal. With the power of Dyson suction technology in a versatile handheld device, the cord-free navigation allows you to rid floor areas and mattresses of pet hair, dander, pet allergens and microscopic dirt. With the cordless Dyson Gen5detect™ pet vacuum, you can deep clean with 125% more suction power, depositing all pet hair and dirt into a large bin3.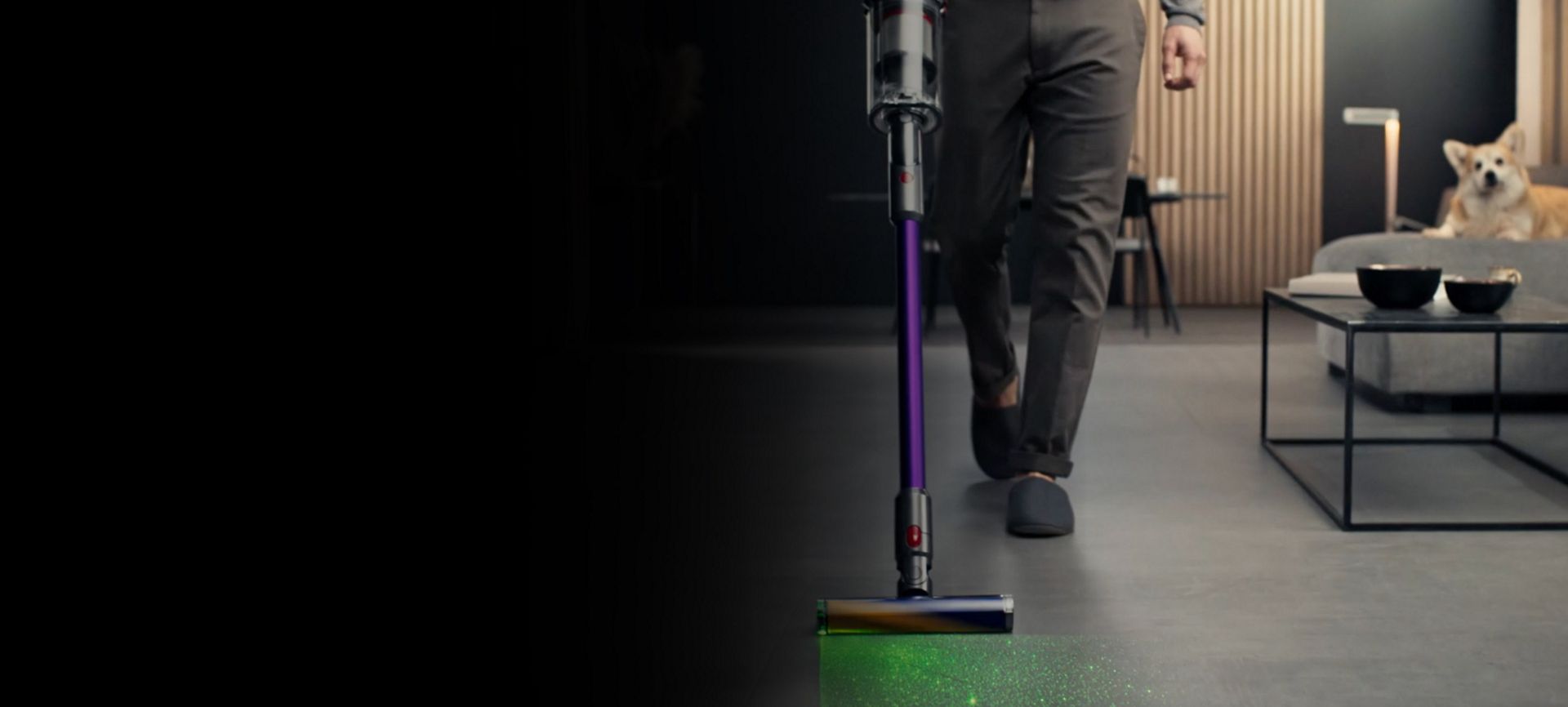 Pet hair removal in every space

Dyson cordless vacuums can transform into a handheld device for vacuuming pet hair in all areas. Tools attach directly to the wand or machine to target coarse carpets as well as high and low spaces. Pet hair, dander, pet allergens and dirt have nowhere to hide.

Easy-to-dispose dirt and pet hair

Our hygienic bin uses a 'point and shoot' system to avoid touching dirt, for an uninterrupted clean. For a larger cleaning capture and disposal, the Dyson Gen5 Outsize™ has a 150% bigger bin3, with the same power and intelligence.

Dock and charge

The wall dok neatly stores and recharges your Dyson vacuum between cleans, so it's always ready to remove mess made by pets. Simply drop your vacuum into the charging dock between cleans – you can also store your vacuum's tools.
Accessories for pet owners
To provide further ease in removing mess made by pets, our pet owner vacuum accessories are key tools in solving how to get rid of cat hair or dog hair. Designed for short and long haired pets, our accessories are engineered to deep clean away dirt, pet hair, dander and pet allergens from every corner of your home.
Low-reach adaptor

Pet hair, dander and pet allergens can settle in the deep corners of the home, affecting the overall air quality. The Low-reach adaptor is engineered to comfortably reach all spaces under low furniture with a wand angle adjustment of up to 90 degrees.
Bristled brush for pet mess

Ground-in dirt and muddy paw prints are a feature of living with pets – but they threaten to shorten the life of coarse carpets, high traffic areas and upholstery. The best pet vacuum is made even more useful with our Stubborn dirt brush. Stiff nylon bristles dislodge dirt brought in by pesky paws and save your interior from staining.

Groom tool for pet hair and allergens

Our accessories also assist in the overall cleanliness of pets, by removing dog hair before it's shed. Designed for adult dogs with medium and long hair, the Groom tool5 provides the dual action of brushing and pet hair removal. Pet allergens and dead skin cells go directly to your vacuum before they end up on floors, furniture and upholstery.
All Dyson cordless vacuums are engineered for a range of cleaning tasks. The Dyson Gen5Detect™ stick vacuum is currently our most powerful and intelligent cordless vacuum6 for pet hair removal.
The power of Dyson suction technology and versatility of the handheld device allows all cordless vacuums to be equipped for vacuuming pet hair indoors and removing pet allergens.
To deep clean dirt, pet hair, dander and pet allergens, our best vacuum cleaner for carpet includes the Stubborn dirt brush and Hair screw tool. Each included in the Dyson Gen5detect™, Dyson V15 Detect™, Dyson V12 Detect Slim™ or the Dyson Outsize.
The Dyson Gen5Detect™ cordless vacuum is currently our most powerful and intelligent vacuum cleaner6. The illumiation technology included makes it the best vacuum cleaner for dog hair and cat hair removal.
The filtration system embedded in our cordless vacuums range is fully sealed and traps microscopic particles including pet allergens and pet dander as small as 0.3 microns2 (µm) for deep removal.
1Laser engineered for hard floors. Effectiveness of laser influenced by ambient light conditions, debris type and surface.
2Tested against ASTM F1977-04 (particles sized 0.3-0.5 microns), tested in Boost mode.
3Quantity and size of dust displayed on screen varies depending on usage. Examples shown may occur within one or more displayed size range. Automatic suction adaptation only occurs in auto mode.
5Available in the corded vacuum range
6Suction tested to IEC62885-4 CL5.8 and CL5.9, tested at the flexible inlet, loaded to bin full, in Boost mode by independent third-party, SGS-IBR Laboratories US in 2022.