Save $552
Dyson's powerful vacuum now washes hard floors

Removes spills and tough stains.1

Counts and measures dust particles.2

Captures hair without tangling.

Get a Supersonic Origin for $399 when you add this product to cart.

Save $552 off RRP.
Was

$1,549.00
$997.00
Save

$552.00
Installment options with
&
New technology
Washes hard floors with clean water from start to finish
Motorised wet roller picks up liquids, debris and stains, which are continuously extracted from the roller with each rotation.Clean up to 110m2 with each full tank of water. Exclusively compatible with the Dyson V15s Detect Submarine™ vacuum cleaner.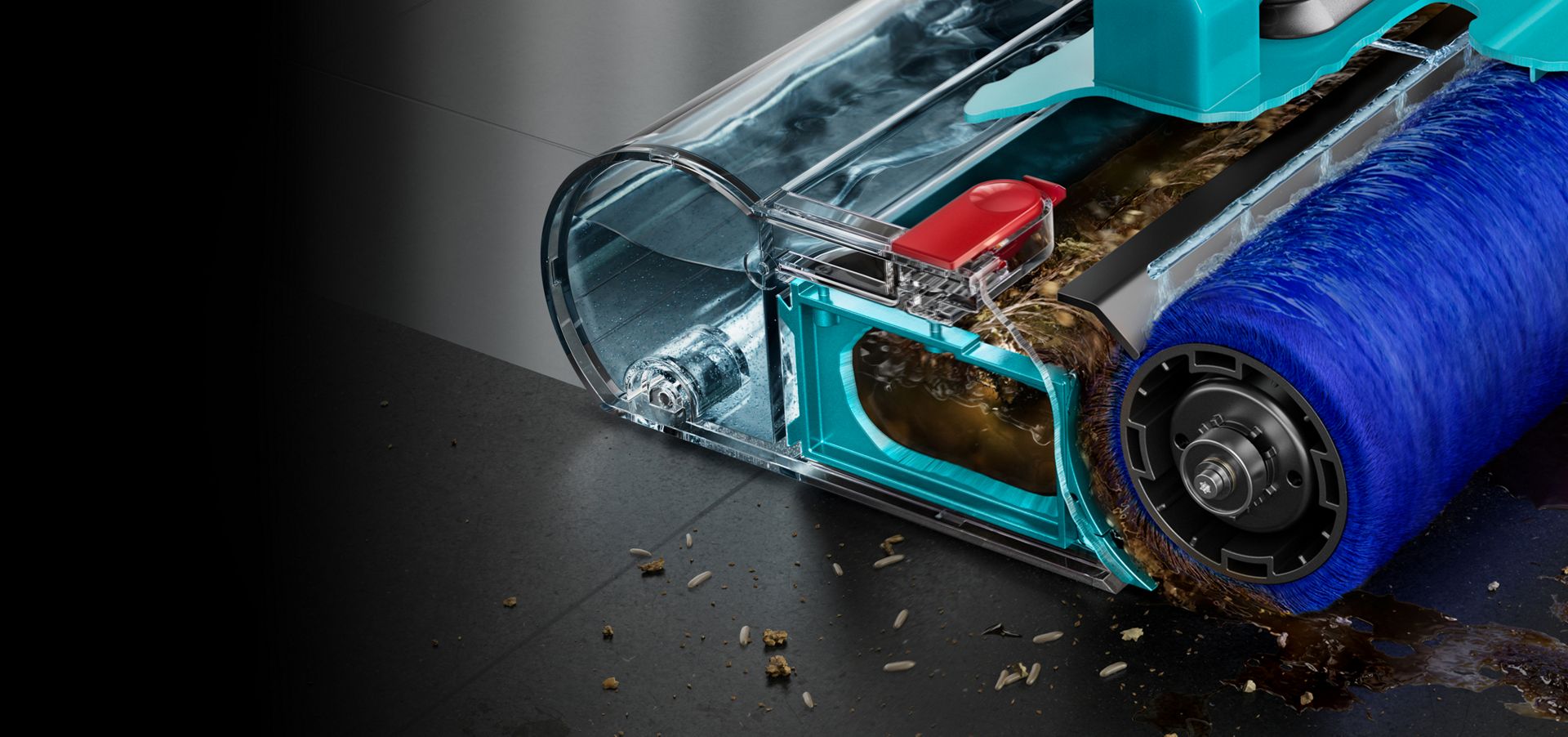 Powerful Dyson performance
Powerful suction

A Dyson Hyperdymium™ motor spins at up to 125,000rpm to deliver powerful suction and a comprehensive deep clean.1

Cyclone™ technology

14 cyclones generate forces of up to 100,000g to remove dust from the airflow – with no loss of suction.6

Up to 60 minutes of run time2

Advanced seven-cell battery provides fade-free power for whole-home deep cleaning. Easily swap with an additional battery (available separately) for even longer cleans.
Frequently asked questions
No. The Dyson Submarine™ wet roller head is not compatible with any other Dyson vacuum cleaner, including pre-purchased Dyson V15 Detect™ vacuums. To intelligently switch between wet and dry cleaning, this version of the machine has been reprogrammed. The previous software is not compatible with wet floor cleaning.
No. Due to the Dyson Submarine™ wet roller head not being compatible with any other Dyson vacuum, it is not available as an accessory. For spare parts and support for your wet roller head, you can contact our customer service team. Contact Dyson support.
The Dyson wet dry vacuum combines the Dyson Submarine™ wet roller head with advanced vacuum technology. When the wet roller head is attached, the machine automatically enters cleaning mode to wash hard floors like tiles, wood and ceramic.
The Dyson wet and dry vacuum washes hard floors, lifting stains and liquids while removing microscopic particles via Dyson's vacuum technology. Advanced filtration, anti-tangle combs, intelligent tracking and powerful motor technology are all included in this wet and dry vacuum, for complete and whole home cleans.
The Dyson Submarine™ wet roller head is engineered to wash tile, stone, wood, ceramic, vinyl, linoleum and laminate floors.
Yes. The cordless wet and dry vacuum lifts and washes stains, debris and liquid spills from hard floors like tile, wood and laminate. Clean water hydrates the wet roller head through 8 precise points, evenly distributing for full width cleaning.
Yes. To achieve the best deep cleaning results, it's suggested to dry vacuum before wet cleaning the floor.

If there is a substantial number of dry debris on the floor, we recommend vacuuming the floor before wet cleaning it to achieve the best cleaning performance. Do not vacuum up any spills or wet debris in dry mode as this could damage your vacuum cleaner.
Dyson understands that some users will want to combine a cleaning detergent with the wet roller head. If you decide to use detergent, please choose gentle, common household detergents, and do not use bleach and high-foaming formulation. Please follow the manufacturers guidance on the recommended dilution on surfaces cleaning - We do not recommend putting neat detergents in the clean water tank.
Refill the water to full when the water is running low in the clean water tank. With a full tank of water, the Dyson Submarine™ wet roller head supports 16 minutes run time before the clean water runs out. To help protect the motor in the wet roller head, do not run the product when the clean water tank is empty.
The Dyson Submarine™ features a transparent clean water tank and owners will be able to see how much water is remaining in the clean water tank during cleaning. Refill the water tank when the water amount is running low. With a full tank of water, the Dyson Submarine™ wet roller head supports 16 minutes run time before the clean water runs out.
Pascals (Pa) are a unit of measurement used in physics to describe a difference in pressure inside and outside an object. Meanwhile, Air Watts (AW) measure suction power, accounting for both pressure (Pa) and rate of airflow. Since it's a holistic measurement, looking at AW may be more helpful when assessing vacuum performance.
Air Watts (AW) differ between robot, cordless and upright or barrel vacuums. Although AW can help to understand the suction power of a vacuum, it isn't the only factor to consider. How well a vacuum is sealed and the intelligence of the design play crucial roles in overall power and effectiveness. Generally when looking at performance, higher air watts in a machine means better suction power. However, robot vacuums don't require as many air watts as cordless, upright or barrel vacuums – which is due to a better seal to the surface.
- Suction power indicated by Air Watts (AW) is a good starting point to understand the power of a vacuum as this indicates both pressure and rate of air flow.
- How well a vacuum is sealed is also critical as AW can be lost via cracks and gaps in the machine.
- Well-designed air flow is another important factor to allow the vacuum to broadly capture dust and debris in hard-to-reach areas.
1. Suction tested to IEC 62885-4 CL5.8 and CL5.9, loaded to bin full, in Boost mode.
2 In Eco mode on hard floors.